The Liberals Change from Annual Deficits to Dept-to-GDP Ratio Idiom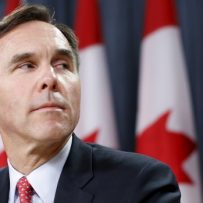 By Alexandra Posadzki, The Canadian Press
The federal government won't jeopardize its goal of balancing the budget in 2019 to improve its ability to pay back the debt, Finance Minister Bill Morneau said Monday.
The Liberals, who had promised to keep annual deficits under $10 billion, have recently started emphasizing instead their commitment to keep the debt-to-GDP ratio on a downward trajectory every year until the end of its mandate.
Experts have said the debt-to-GDP ratio — which is calculated by dividing total federal debt by the overall size of the economy, as measured by nominal GDP — will be an easier target to meet.
Some have suggested the government could run annual deficits of up to $25 billion and still meet the debt-to-GDP target, provided that the economy grows at a decent rate.
The government projects the ratio will gradually fall each year from 31.1 per cent in 2015-16 to 25.2 per cent in 2020-21.
Following his speech Monday before the Toronto Region Board of Trade, Morneau said the government won't singularly focus on one of its three economic goals — to grow the economy, reduce the debt-to-GDP ratio and balance the books by the next election — at the expense of others.
"We need to think of the three of them together," he said.
Morneau also announced that the government will seek advice from experts in Canada and abroad on how to boost economic growth by forming an advisory council. The group will include people who have experience growing successful economies, from both the private and public sectors, he said.
He said the advisory council, which will be unveiled in the new year, will help the government figure out how to deal with the country's longer-term economic challenges.
The economy contracted over the first two quarters of 2015 and it has struggled to fully rebound following the steep slide in commodity prices and the failure of other sectors to pick up the slack.
Morneau has also said that the Liberals inherited a worse-than-expected fiscal environment from the former Conservative government.
Morneau, who made his remarks the week after announcing an increase to the minimum down payment for homes between $500,000 and $1 million, said he doesn't currently have any other new measures to introduce to cool down overheated housing markets.
"If and when we do we'll certainly let people know, but for now we'd like to see how these measured approaches have an impact on those pockets of risk," he said.
Follow @alexposadzki on Twitter.