The Importance of Branding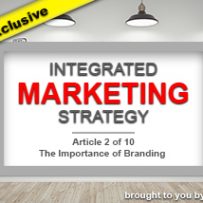 Story by: Sarah Rodrigues
As I discussed in last month's post on marketing strategy, knowing your business is key to formulating an effective marketing plan. One major aspect of your business' identity is its brand.
What is a brand?
"Brand" is an all-encompassing term for how you want your company to be perceived by others. A brand is a promise of a certain level and style of product or service, and should set you apart from the competition. Brand is an external expression of a company's internal mission, vision, and values. For example, Coca Cola's brand promises "creativity, passion, optimism and fun," not a soft drink.
Some people hear the word "brand" and immediately think of the logo. It's true that a logo is one of the most visible and recognizable aspects of a brand, but what the logo represents to the consumer is actually what matters. In order to manage how your brand is perceived, you need to develop a brand strategy within your marketing plan.
Evaluating your brand
For companies that already have an established brand, this portion of the plan should assert what that brand stands for and evaluate its effectiveness. Is the brand implemented consistently across all platforms? Does it speak to the target audience? Does the company deliver on its brand promise?
Since customers are the ones who decide if your brand lives up to its promise, you must talk to them. This step could involve focus groups with tenants, discussions with management and front line staff, or surveying past and present tenants on the brand's attributes. For example, if your brand promises to be easy to do business with, ask your tenants how their application process, move-in day, or maintenance requests were handled. If customers believe your processes were smooth and they had no difficulty, your brand has delivered on its promise.
Automated systems make surveying of tenants much easier. Companies can automatically send a message to anyone who viewed an apartment, moved in, moved out, or had a maintenance request, and ask a few simple questions about the experience.
For companies without an established brand, this stage of the process should still focus on how the company is perceived by its customers. If a company doesn't establish its own brand, customers will do it for them. Determine your brand's objectives, research what customers are already saying about you, and develop a strategy that will bridge that gap.
Brands should also consider the competition to some extent. Are you promising the same things as every other company? Does your brand stand out, or blend in?
Formulating a brand strategy
A brand strategy, like a marketing strategy, needs to have clearly defined goals and objectives. Unlike a marketing strategy though, branding is harder to measure. If you are surveying your tenants regularly, you can measure their response to your branding efforts, but otherwise branding goals are more subjective.
An example of a measurable branding objective could be "Develop a brand manual that mandates the correct use of the company logo, tagline, fonts, colours, and other brand elements across all company communications." This may not have a measurable impact on the vacancy rating the same way generating more leads does, but can affect how prospective tenants perceive the landlord's credibility and professionalism, which may influence their decision to rent.
At the tenant level, another branding objective could be "Have all staff demonstrating the brand's desired qualities of […] in 100% of tenant interactions." This objective can be implemented through staff training, and measured with call monitoring, tenant surveys, and performance reviews.
Integrating the brand strategy
A brand strategy focuses on what the company wants its customers to believe about the brand, and how to get them there. Once a clear brand is established, integration across all areas of the company will demonstrate consistency and credibility to customers and stakeholders.
Because brand is a key factor in marketing, brand strategy needs to be considered in every other aspect of the marketing plan:
Web & digital communications need to conform to the brand, considering not only aesthetics but also user experience.
Advertising should reflect the brand and its promises, and show the target audience how that brand solves a problem or fills a need.
Customers who perceive that the brand has met or exceeded their expectations will be more engaged, and more likely to tell others.
Staff who can relate to the brand they work for and see how their behaviours and values suit that brand will be more engaged with the company overall. A strong brand can also assist in recruitment of like-minded staff in the future.
Public relations will have a clear purpose in demonstrating the brand promise and attributes.
Segmenting the brand strategy
Depending on the size of your organization, it may be necessary to segment your brands. Remember, a brand must speak to the target audience, so if different areas of your business have different audiences, a sub-brand may be appropriate.
For example, Skyline is a large group of companies with a variety of audiences. Skyline Living is used to differentiate the apartment tenant-facing brand, and has its own logo, website, brand promise, and attributes. Separate from the Skyline Living brand, we have commercial and retail properties along with our apartments, and we have a wealth management segment that administrates the investments in the various REITs.
Brand evolution
Whether a company already has a "branding strategy" or not, this exercise is integral to the marketing strategy, because how a company is perceived affects how its marketing messages will be received. After evaluating the brand, a company may find its messaging needs to evolve to meet the needs of its target market, and alter the perception of the brand over time. Branding is an incredibly slow process, but if your company focuses on consistency and delivering on its brand promises, customers will eventually begin to perceive the brand the way you want them to.
About the author: Sarah Rodrigues is the Advertising Coordinator for Skyline Living, a division of the Skyline Group of Companies, which operates 142 apartment communities in 46 cities across Ontario, Quebec, Alberta, and British Columbia. She has worked in communications, project management, advertising, and marketing in a number of industries. Feel free to connect with her on LinkedIn.