The Hottest Trends in Multifamily Outdoor Living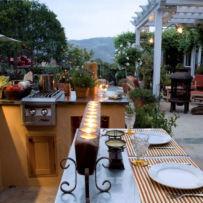 Story by:  Leah Mendes  |  March 28, 2016
Summer is right around the corner, and the weather isn't the only thing heating up. New trends are on the horizon in multifamily, and apartment communities are finding new ways to bring the full indoor living experience outdoors.
The National Kitchen & Bath Association identified outdoor kitchens and living spaces as the hottest trends in housing today, although it's been popular for a few years. Americans began enhancing their outdoor living experiences around 2007 as new homes downsized during a receding economy. An American Institute of Architect's latest Home Design Trends Survey in 2008 noted increased emphasis on traditional outdoor elements like decks, porches, and patios, to expanded outdoor cooking areas and outdoor "rooms."
Ordering out for pizza poolside at apartment communities also appears to be taking a new spin.
Pizza ovens are among desirable components of new elaborate outdoor kitchens that will be highlighted at January's annual Kitchen & Bath Industry Show (KBIS). The new Outdoor Products Area will showcase the latest in outdoor kitchen and living designs and products aimed to satisfy consumers' growing appetite for alfresco living.
Kalamazoo Outdoor Gourmet's Artisan Fire Pizza Oven will be baking fresh pizza for KBIS visitors to taste. The oven is just one of dozens in varying sizes, styles and quality on the market today for outdoor use.
Just hold the anchovies, please.
"The outdoor appliance category has grown exponentially," said Brian Pagel, VP, kitchen and bath, Emerald Expositions. "It's no longer about what grill are people buying for their backyard, it's about bringing the entire kitchen experience outdoors. Everything from weatherproof cabinets to dishwashers, refrigerators and even pizza ovens."
Outdoor kitchens, living spaces offer residents greater opportunities
Apartment residents still list extended outdoor living spaces like balconies and patios as desirable features, citing them among the top five amenities in the in 2015 Renter Preferences Survey conducted by Kingsley Associates and the National Multifamily Housing Council.
But Scott Matthews, Director of Strategic Accounts for Atlanta-based Home Depot, says multifamily properties can take outdoor living a step further with better and more sophisticated furnishings and outdoor kitchens. Furniture and all-encompassing cooking fixtures suitable for baking a pepperoni pizza to fixing a gourmet meal is extending into more upscale multifamily properties. It's one way to increase resident satisfaction as well as entice prospects, he says.
"The biggest trend is taking the living space from indoor to outdoor," Matthews said. "It's just as important as more and more people grow the outdoor space. They're really moving the house outside. It's not just about putting a grill outside, it's about asking 'how do I move a whole living space outside? How do I move the living room outside?'"
More durable products, better designs enhance investment
The emergence of better products and more options is helping to drive demand in outdoor living. Nylon foldup chairs and soft-plastic chaise lounges are a thing of the past, replaced by color-coordinated, comfy and durable chairs and sofas that would look just as good in the living room of an apartment. Outdoor kitchen equipment is manufactured to withstand the elements, and longer warranties on some products extend comfort to the budget.
Matthews said customized patio furniture that extends indoor living spaces and matches a property's look and décor has become more desirable.
"Consumer trends are to create that outdoor room with the same excitement as the indoor," he said. "Customers are thinking about patio furniture as they would for the indoor furniture, the quality that's going to hold up long term, it's got to be durable and have the ability to weather the elements outside. It's not your typical folding lawn chairs. It's definitely moving in a much bigger direction."
Sunbrella Fabrics, which has made coverings for home and marine installations since 1961, offers a five-year warranty that covers fading, something that wasn't available a few years ago, Matthews said. According to the company's history, Sunbrella began a shift in 2002 to creating more durable outdoor fabrics.
The company's Icon Collection was named a Best of Year 2014 Winner by Interior DesignMagazine. Most recently, Sunbrella debuted its Santa Barbara Collection, inspired by California's coastal and rural landscapes.
Matthews said that quality fabrics, aluminum construction and longer warranties are making patio and outdoor furniture to be much better investments than they have been in years past. Especially that lengthier warranty.
"In years past, you couldn't get that," he said. "You somehow had to update the patio cushions every other year at best. Finding that five-year warranty with a quality product really makes it cost effective for property management companies."
Multifamily outdoor living amenities benefit both apartment community and residents
Improvements in patio furniture comfort and durability – plus recent trends by apartments to prohibit cooking on apartment patios and decks – has fueled growth in outdoor kitchens that rival many indoor installations. Stainless steel grills and appliances, including some encased in stone or other material, enable residents to cook complete meals and entertain in larger areas instead of being restricted to the sizes of their apartments. Even smaller cooking devices like The Kamado, a high-tech cooker about the size of a smoker, can make an impression.
"More and more people are living in apartments, but they are still entertaining," Matthews said. "And these spaces really drive that resident satisfaction."
The pizza oven is the supreme topping.
Starting at $200 and running as high as $6,000, portable and built-in ovens, including a Chicago-style brick-fired unit with a visible fire chamber, are available in a number of sizes and varieties. To meet demand, Home Depot has expanded its line of offerings to include more than a dozen models that are either gas- or wood-fired.
"Pizza ovens are huge right now," Matthews said. "Pizza is one of the most consumed foods in the U.S. Making your own pizza is a good time if you're entertaining friends or just the family. To go outside and create your own pizza, it's a fun thing to do. Plus, that's a huge win for the apartment community, as well as the resident."
Whether you're hosting a pizza party or weekend barbeque, use outdoor amenities to foster a stronger sense of community at your properties and create a positive living experience for residents.