The future of multiples in key urban markets of Atlantic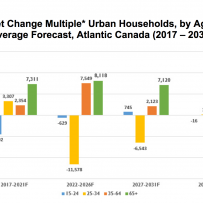 Multi-residential housing completions in Atlantic Canada's urban centres are forecast to decline over the next 20 years. This expected decline for apartments, semi-detached and row housing follows the slowing pace of household formation from the last five years (2012 – 2016).
The Future of Multiples in Key Urban Markets of Atlantic Canada explores recent trends in urban population growth to forecast the potential demand for multiples completions over the next 20 years. The report follows a similar study into the future of single-detached homes in Atlantic Canada. This analysis draws a number of important conclusions.
The influence of the over 65 age group on new household formation and multiples completions will continue to be significant over the forecast period. However, it will not be sufficient to offset the effect of a decline in population after 2026 due to mortality or a shift in preference for single-detached housing by those in the 25 – 34 age group.
Furthermore, a favourable outlook for migration will not on its own guarantee multiple housing completion levels above the recent trend (2012 – 2016). If this is the case, the population aged 50 and older are the most likely to contribute to greater levels of multiples. Achieving higher multiple completions would therefore depend on a strategy to attract this age group.
The level of multiples completions will also be impacted by the future level of demand for single-detached housing. The study estimates that over the next 20 years 60% of the expected completions activity will be focused on single-detached completions in Atlantic Canada's urban centres. Achieving higher multiple activity may also require a shift in ownership preferences for the 25 – 34 age group away from single-detached housing.
Source: Multiple Dwelling Household Forecast(s) from CMHC, PHD Model, 2016; Statistics Canada, 2016.
*Includes Apartments (Rental and Ownership), Semi-Detached and Row Housing. Urban includes: Fredericton, Moncton, Saint John, Halifax, Charlottetown and St John's.
Read the full report — Housing Market Insight, Atlantic Canada