THE ECONOMIC AND FISCAL SNAPSHOT – WHAT DOES IT MEAN FOR RENTAL HOUSING PROVIDERS?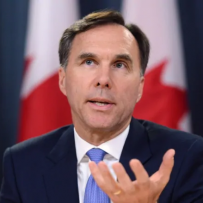 On July 8, Finance Minister Morneau delivered the federal government's Economic and Fiscal Snapshot, reporting on the spending and revenue impacts of COVID-19. What does that update mean for rental housing providers?
The federal deficit for this fiscal year is forecast at $343 Billion, 10 times as much as the forecast before COVID-19. That will raise Canada's debt from under $700B to slightly over $1 Trillion. However, the debt is being bought at such low interest rates that the cost of servicing the debt will actually be less in 2020 than it was the year before.
Here are the main contributing spending and revenue changes:
Canada Emergency Response Benefit (CERB) $80B
Canada Emergency Wage Subsidy (CEWS) $82B
Reduced tax revenue $81B
Many people's basic financial needs are being met by CERB, or will be met by CEWS. More than the deficit, I am concerned about what will happen when CERB ends, which is scheduled for early October. Will CEWS pick up the shortfall in income, or will jobs, or neither?
What will happen when CERB ends?
When CERB runs out, a key question will be whether we have an effective treatment for COVID-19 for people who are hard hit by it. (Better yet would be a vaccine, but most writers say 6 months is not long enough to find and prove one, let alone to manufacture it in bulk.)
Assuming we do not have an effective treatment or vaccine, then the question is, can the economy and jobs take off with the use of masks and the other various control mechanisms now in place? What will happen in other countries to which Canada exports resources and goods?
If the economy and jobs can and do take off, that will allow most people who have lost their jobs to go back to making goods, or selling goods or services to earn income. The end of CERB may make a lot of people eager to take work, which will be a good thing, provided the work is there for them.
But if work is not there for people to do, then how do the people without jobs or CERB pay their rent? We will have to wait and see if they can get jobs, and what the governments will do if people can't get jobs.
Good news for rental housing providers
There is some good news for rental housing providers in the overall situation.
First, Finance Minister Morneau said that higher taxes would be the wrong way to go. CFAA agrees with him. Paying to carry the debt at low rates of interest is much less painful than tax increases. Rental housing providers cannot afford tax increases.
Second, since the government's fiscal health depends on low interest rates, we can expect low interest rates for a long time. Low interest rates keep house prices and apartment building values high, and that is good for the rental industry. High apartment building values are also good for tenants and construction workers because high apartment building values lead to larger amounts of new rental supply, and that tends to keep rents lower than they would be without the new supply.
High apartment building values are good for rental housing providers, for tenants, for construction workers, for apartment lenders and for the economy. Low interest rates are a key driver of high values.
Story by: John Dickie, President, CFAA