The Bank of Canada may cut the key interest rate again by 2017: economist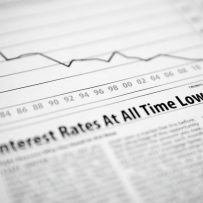 Story by: Josh Sherman  |   BuzzBuzzHome
An economist for one of Canada's biggest financial institutions predicts the Bank of Canada isn't hiking its key interest rate until late next year, and says it might even cut it before then.
"The Bank of Canada is in no hurry to raise interest rates," CIBC Chief Economist Avery Shenfeld tells attendees at CBRE's Canadian Market Outlook this morning.
Andrew Coyne, a National Post columnist, and Paul Morassutti, CBRE's executive managing director, joined Shenfeld at the Metro Toronto Convention Centre to talk commercial real estate, politics and the Canadian economy at large.
"We see (the Bank of Canada) standing pat until at the very earliest very late in 2017, and the reason is simple — you don't need a PhD in economics to understand why we've cut interest rates while the US has started to hike them," Shenfeld adds.
In 2010, when Canada's economy was outperforming the US' in terms of job opportunities, then Bank of Canada Governor Mark Carney hiked the key rate, which influences mortgages. Since then, the tables have turned, Shenfeld explains.
"What has happened is the US has actually not only caught up to us but is now running a lap ahead," he explains. "The US unemployment rate has fallen well below Canada's and will continue to run below Canada's over the next few years."
"If there's any country in need of stimulus from low interest rates, it's now us, it's not Uncle Sam," he says.
One more cut could be on the way over the next year and a half, Shenfeld adds. Twice last year the Bank of Canada cut the key interest rate by 25 basis points, and it currently sits at a historically low rate of 0.5 per cent.
However, Shenfeld doesn't advise the Bank of Canada flirt with a negative key interest rate.
An overnight rate below zero means financial institutions have to pay to deposit money with the central bank (rather than accrue interest when they do) encouraging spending.
"I think that fiscal stimulus now is the right option rather than negative interest rates to get the economy moving," says Shenfeld.
The next Bank of Canada rate announcement is scheduled for March 9th.
The federal Liberal party, elected in October, ran on a platform that included "modest short-term deficits of less than $10 billion in each of the next two fiscal years to fund historic investments in infrastructure and our middle class."
However, the Liberals this week announced the party will run up an $18.4 billion deficit for 2016-17 alone.
"Thirty billion dollars will be the smallest deficit I can envisage the federal government delivering, and, in fact, I'd be in favour of something larger to help kickstart the economy," says Shenfeld.
CIBC's expectation that the central bank will put off an overnight rate hike notwithstanding, some mortgage rates could still increase before 2017's end, says Shenfeld, as the Federal Reserve is expected to "gradually nudge up interest rates" stateside.
This will be done to control inflation in the US as the economy heats up and continues to recover from the 2008 financial crisis.
"We may see those long-term interest rates rise in Canada as well," says Shenfeld. "They do tend to be correlated with the US, so look for 10-year interest rates, for example, to be about a half per cent higher or so by this time in 2017 in Canada."