The average cost of renting an apartment in cities across Canada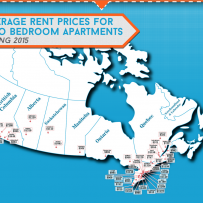 With the real estate market in Canada booming and the Bank of Canada's recent cut in interest rates, the Canadian housing market looks like it might continue to surpass current levels – contrary to the many critics who have been expecting to see a downturn or even what some are expecting to be a "crash" in the housing market for a while now.
So how does this impact the Canadian apartment industry?  Well, while existing tenants are protected from annual increases above the limits set by each Province (for example, in Ontario, the 2016 increase allowed is 2.0%), new tenancies are not covered under rent control, allowing landlords to charge whatever price the market demands for their rental properties.
RentSeeker.ca, has put together an INFOGRAPH showing the average costs for apartment rentals in cities across Canada. (To view in fullscreen, click here).