The 2017 Maximum Annual Rent Increase Drops To 1.5%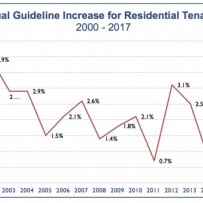 The Ontario Ministry of Housing has announced that the 2017 annual rent increase guideline will be just 1.5% – half a per cent lower than the current rate of 2.0%
The rent increase guideline is the maximum most landlords can raise a tenant's rent without the approval of the Landlord and Tenant Board, and applies to rent increases between January 1 and December 31, 2017.
The guideline calculation is set out in legislation, and is based on the Ontario Consumer Price Index.
In 2016, rental housing providers saw significantly higher average cost increases for services such as energy (3.4%) and municipal water (9.4%), an annual increase of only 1.5% on rents falls short of keeping up with the times.
FRPO will continue to table this evidence with the provincial government as they continue to consult with the sector on finding ways to entice more rental housing to be built.  
The Ministry's official news release can be found here.