The 20 US rental markets with the best investor potential
Story by: Monika Warzecha | BuzzBuzzHome
If you're hoping for high returns on your residential rental investment, don't look west. According to a RealtyTrac ranking that looked into counties with the highest potential rental returns for the first quarter of 2015, the top-performing markets were largely located in Georgia, Maryland, Virginia and Michigan.
"With homeownership rates at their lowest level in 20 years, historically low levels of housing starts and relatively low home prices in many parts of the country, there is still plenty of opportunity in the US housing market for single family rental investors employing a variety of investing strategies," said Daren Blomquist, Vice President at RealtyTrac.
The real estate data company analyzed 516 counties with a combined population of 236 million people — or 76 percent of the total population. They looked at factors such as median sales prices for single family homes and condos, the average fair market rents for three bedroom properties, employment rates and demographic trends.
The report found that the average gross yield among the counties was 9.04 percent. To see the top performers for the first quarter of the year, check out the interactive map and table:
Top 20 residential rental markets based on highest potential returns, Q1-2015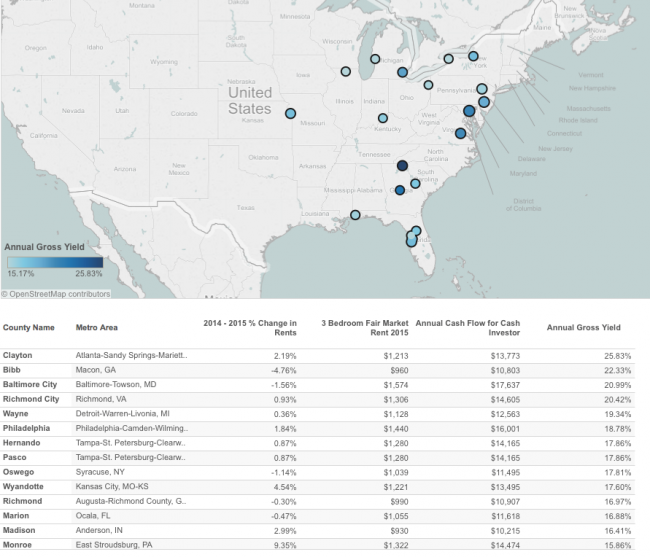 The report also looked into the best markets for renting to Millennials. In all 516 counties studied, RealtyTrac singled out 50 where the Millennial population was above the national average of 22 percent, where the Millennial population share increased at least 5 percent between 2007 and 2013, and where potential annual rental returns on residential properties were 9 percent or higher.
The top three markets were Baltimore City, Maryland (20.99 percent annual gross yield), Richmond City, Virgina (20.42 percent) and Philadelphia County, Pennsylvania (18.78 percent).
For more details, including which rental markets are best to rent to Gen-X and Baby Boomers, check out the full report here.