The 10 key themes from CMHC's National Housing Conference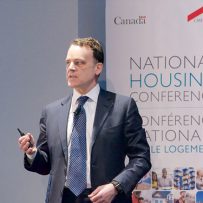 Organized as part of the National Housing Strategy, the Conference brought together housing industry experts, researchers, policy makers and practitioners.
The event was a forum for collaboration and sharing of experiences and lessons from Canada and around the world. By bringing a diverse group of professionals together, we hoped to innovate on solutions to address Canada's housing needs.
The 10 key themes from the National Housing Conference
During the various discussions and sessions held during the Conference, 10 key themes emerged:
Housing is the key financialized asset
Supply is a continuum (of multiple problems)
Climate change is affecting supply and demand
One size doesn't fit all
Good policy won't come from bad (or no) evidence
Social inclusion is a process
Nothing is a panacea
Everything (new and old) will help
Collaboration is key to success
We need to rethink rental in the 21st century
National Housing Conference Report: objectives
As a follow-up to the Conference, we've put together a report that:
highlights the 10 key themes
reflects on what the themes mean for housing research and policy
The objectives of the report are to:
raise awareness of key housing issues discussed at the National Housing Conference
incite further research on the housing issues identified in the report
spark dialogue with target audiences across Canada and around the world
A report in support of our goal for 2030
We've given ourselves an audacious goal: by 2030, everyone in Canada has a home that they can afford and that meets their needs. To achieve this goal, we're working to accelerate housing affordability through evidence-based policy, research and disruptive innovation. We're also collaborating with our partners to solve housing affordability challenges.
The National Housing Conference and the report show the value of what we can do when we come together. The new housing reality in Canada, and around the world, is full of challenges that make collaboration and innovation necessary.
"[Our goal] requires us to think differently about what we do. […] While there are many different pathways by which this goal will be achieved, bringing together people from around the world with professional wisdom and lived experience can only add momentum to our work." — Evan Siddall, President and CEO, Canada Mortgage and Housing Corporation (CMHC)