TENANTS LIVE RENT-FREE IN LANDLORD'S HEAD – AND HOUSE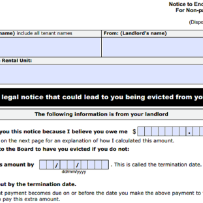 A local landlord says she is not looking to shame anyone by speaking out and is sharing her story to shine a light on how broken the tenant-landlord dispute resolution system has become — a bureaucratic boondoggle only worsened by the backlog created by the COVID-19 pandemic.
Samantha Currie, who owns multiple rental properties in North Bay has taken legal action to recoup her considerable financial losses — estimated to have reached $30,000 — for unpaid rent and utilities dating back to July 2020.
In the midst of writing this piece, Currie's tenant nightmare took an unexpected but welcome turn as the family finally made good in early October on its promise to move out. This was a guarantee the landlord says she had received nearly monthly since the first action to evict the tenants in 2020, after several months of non-payment.
"The Landlord Tenant Board has been beyond terrible," in addressing disputes and making rulings, Currie notes. During a period unaffected by the COVID-19 eviction moratorium, "I evicted them in November 2020 and then applied through the Landlord Tenant Board to have them evict them. They didn't even have a hearing set out for me until May of this year."
An exasperated Currie admits she made a $50 error on the eviction notice when calculating the amount of money owed to her. Worried the discrepancy might affect the proceedings at the tribunal, Currie secured legal counsel and brought the error to the board's attention, owning up to her clerical error.
"Because of that $50, they more or less threw out my file," she says. "Then we had to start all over again with the eviction process. So, then I was left waiting on the Landlord Tenant Board who was fully aware this family was living in my house for free."
Currie admits she may have been a little too forgiving and compassionate in dealing with the family by not wanting to put them out on the street. She says that kindness — an error in judgment not to be repeated — allowed her former tenants to occupy the Pinewood-area rental for months on end for free,
"I was so accommodating by letting them pay me late all the time," before they stopped paying altogether, Currie rues.
She insists the tenants used the delayed and broken Landlord and Tenant Board (LTB) tribunal to their advantage to avoid eviction for over one year. Through the Residential Tenancies Act, one of the LTB's functions is to resolve disputes between residential landlords and tenants, including evictions for non-payment.
"I think it's absolutely ridiculous the pull tenants have over landlords and their houses," she says. "I'm a hardworking person and I've worked hard for my investments. It makes zero sense to me why I have to pay for someone else to live. I've been paying the mortgage on that house plus all their utility bills."
A working professional and mother who dealt with this constant and stressful situation at her rental property throughout her pregnancy, Currie says she is not seeking sympathy but wishes for her experience to serve as an education piece for other potential landlords.
Even when she took maternity leave, leading to reduced personal income, Currie's application to expedite the eviction process was denied by the board because she had not "proven financial hardship," associated with her delinquent tenants.
Now that the tenants have moved out, Currie's financial situation improves with the ability to rent the house to others. But, she's still out the $30,000 — the particulars of those financial losses she is unwilling to address — as legal steps are taken.
Currie debated about speaking out at first because she feared it might give other difficult tenants ideas on how to bilk the system but ultimately decided there is a lesson — albeit an especially expensive one for her, personally — for others to learn from the situation.
"I don't think people should be able to get away with that," Currie expresses. "For over a year, I've been paying for my entire family to live — and for their entire family to live. This likely doesn't help my case at all but if enough people bring stories like this forward, it might make a difference."
Story by: Bay Today