Tenant's Insurance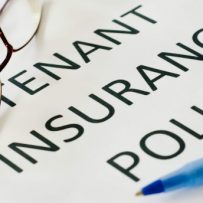 It's not uncommon lately to see on the news that a fire, flood or other natural disaster has left a building uninhabitable, and tenants without insurance leaving them without a home or possessions. Statistics Canada says that less than 50% of renters purchase tenant's insurance.
Owners and managers understand the risk and are looking for ways to reduce their exposure to damage caused by tenants. The issues for owners are encouraging tenants to protect themselves and to confirm tenants maintain their insurance policy throughout the lease. As for tenants, the ease of access to affordable tenant insurance and understanding why it's important to have coverage.
Canadians' increasing appetite for online purchasing is expanding into the insurance arena. The ability to secure tenant insurance with no complex documents or offices to visit, a simple, hassle-free process benefits everyone.
Recently, CAPREIT, one of the largest landlords in the country (over 50,000 units), understanding the need for tenant's insurance and the ability to reduce their risk looked for a solution. "CAPREIT is committed to reinforcing the need and importance for all tenants to carry tenant insurance," says Trish MacPherson, EVP Operations for CAPRIET.
After careful evaluation they formed a partnership with ZipSure.ca, utilizing their platform, ZipTenant, an online, low cost, easy to purchase tenant insurance. The program seeks to resolve the issues with tenants and owners securing tenant insurance.
"Through this partnership, we are another step closer in helping residential rental housing owners, such as CAPREIT, end the serious issue of uninsured renters" says Jamie Reid, CEO of ZipSure.ca and President of A.P. Reid Insurance Stores.
Since tenants often believe that insurance is too costly or not applicable because they don't own many valuables, creating an online platform where tenants can easily and affordably access insurance is significant. Also important is, the instant notification to landlord for purchase of insurance and explicit notice of cancellation regardless of reason.
Life is rarely predictable, as such having certain safeguards that protect all parties is a definite good thing. Acquiring proper insurance is now common sense.