TENANTS ARE USING LEASE TRANSFERS 'INCORRECTLY', SAYS QUE. HOUSING MINISTER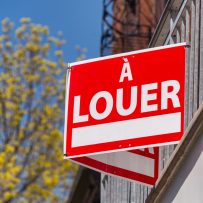 Quebec Housing Minister France-Élaine Duranceau says tenants have been misusing lease transfers to keep rental rates low.
Duranceau was questioned by reporters Monday over proposed changes to Quebec housing law. If passed, Bill 31 would allow landlords to stop their tenants from transferring their lease – a long-used mechanism to avoid a price increase during a changeover.
Under the current law, a tenant can transfer their lease to another person so long as they notify their landlord in writing. The landlord can only refuse the transfer if there is a "serious reason," according to Quebec's housing tribunal.
When the new renter moves in, they may inherit the monthly rate from the last tenant. But that's not how the law was meant to be used, according to Duranceau, who says it gives tenants too much agency in a living space they do not own.
"This tool is used by the tenants incorrectly," she told reporters. "It wasn't intended to keep the rent low."
"This should be used when you want to have your lease cancelled because you want to move out of your dwelling," she added. "It's not intend for a tenant to pass on to the other tenants."
Instead, she said, transfers are unfairly "dissuasive" for landlords, who "need to be able to control what's going on in their building."
AFFORDABLE HOUSING 'NOT THIS GOVERNMENT'S PRIORITY': ADVOCATE
Tenant's rights advocate Sebastien Pentland-Hyde says the bill, if passed, will push up prices across the province because landlords will have an easier time unreasonably raising prices between tenants.
"The biggest rent increases occur between leases," said Sebastien Pentland-Hyde, a community worker with the Organisation d'Education et d'Information Logement de Côte des Neiges (ŒIL).
"Rents are going to up a lot faster in Montreal because of this," he said. "At the end of the day, it's clear that keeping rents affordable for folks, that's not this government's priority."
He said he believes the framework for lease transfers already protects landlords enough.
"The landlord can say, 'hey, is this person making enough money?' 'Has this person been a bad tenant in the past?'" said Pentland-Hyde. "They can do a credit check – they can do all sorts of things to refuse new tenants."
PLANTE VOWS TO OFFER 'SUGGESTIONS' ON BILL
Montreal Mayor Valerie Plante reaffirmed Monday that the city is in a housing crisis, and acknowledged lease transfers' utility to avoid rent hikes.
"I do understand why people are preoccupied … if the bill passes as it is now," she said. "We will definitely bring suggestions and solutions."
She said she hopes the government seeks more public input into how the law could affect tenants' bottom line.
"We need to hear the concerns of citizens who are dealing with the housing crisis and saying 'there is a reason we're seeing more of those transfers,'" she added.
Story by: CTV News