Tenant or landlord? What you need to know after the Fort McMurray wildfire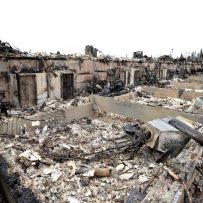 Story by: Stephanie Irvin  |  Global News
Tens of thousands of people are still out of their homes because of the Fort McMurray wildfires, and being a landlord or tenant can make things even more complex.
The Centre for Public Legal Education Alberta (CPLEA) has put together some important information that can help navigate the difficult situation.
Under the residency act, tenants must keep paying rent when it's due even though they aren't living in the property. You can speak with your landlord and try to come to an agreement, but make sure you get it in writing; that will help protect both parties.
Judy Feng, a lawyer with CPLEA, said it's important in a situation like the wildfires for landlords and tenants to keep an open line of communication going. She suggests trying to work with one another, being reasonable and remembering that it isn't an easy situation for either party.
She said if a property is destroyed, a rental agreement can be frustrated (a legal term for ending a tenancy under specific circumstances). That can take place when something happens that is out of the control of both parties–like the wildfire–and makes continuing with the agreement impossible. For example, if the property was destroyed or is so damaged that a reasonable person wouldn't fix it or be willing to live there.
Other tips for landlords and tenants from the CPLEA include:
Be patient.
Communicate with your landlord or tenant. Make sure you have current contact information for each other.
Talk to your insurance company right away.
Take pictures and videos when it is safe to return to the property. Gather any pictures or videos of the property taken prior to the fire.
Get agreements in writing whenever possible.
Know who to contact for more information about the law.
Check with the government for information on financial assistance.
Keep receipts of any expenses incurred while out of your home.