TECHNOLOGY AND CAPACITY EQUAL CONVENIENCE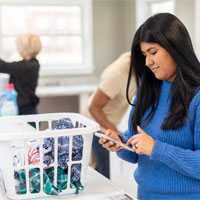 When your property keeps residents on-site on laundry day, everyone wins. However, reaching this goal isn't just about providing a clean laundry room. Regardless of their age, your residents engage with technology every day. Even that morning cup of coffee they purchase down the street is likely ordered and paid for before they even leave your property. Bottom line: if you are forcing residents to carry quarters to your common laundry room, you're missing an opportunity for revenue and there's a good chance they'll visit a nearby laundromat. It's time to look at driving greater value and convenience.
Give them payment options
That laundromat down the street that you are competing with has likely updated how it operates to better cater to the customer experience that's expected. And while customers visit the store out of necessity, they come back because of the convenience. Convenience starts with payment options.
It may be time for your property to take a hint from your laundromat competition and give residents flexibility to pay the way they would like. Mobile apps continue to gain popularity across a range of businesses. Their value was driven higher by coin shortages in 2020. While going 100 percent app-only may not be appropriate for every property, there's no doubt that app adoption rates will continue to rise as commerce increasingly goes cashless.
Offering residents the ability to pay with credit card may be a middle ground between strictly coin or card. Simply put, building in flexibility by allowing residents payment options drives greater convenience and a higher likelihood of keeping them on-site on laundry day.
Capacity is king
The convenience that large capacity machines offer is likely another reason residents may head off-site on laundry day. Adding multi-load capacity to your property's common laundry can help stem that tide. While not all laundry rooms have the infrastructure to support large, multi-load commercial equipment, the idea is worth exploring with your laundry service provider.
Additional capacity brings additional revenue opportunities for the property. Residents benefit from the timing savings of loading one washer-extractor and one tumble dryer as well as the higher G-Force extraction and faster dry cycles. You may also find that upgrading to larger equipment also brings greater control flexibility, which, again, drives greater revenue opportunities with premium wash and dry options.
Final thoughts
With all of our time at a significant premium, convenience sells today. Whether it is through a food delivery service or simple mobile app ordering and payment for that morning cup of coffee, your residents appreciate convenience. The more you can do to provide that value in the laundry room through equipment and technology, the better your odds of keeping them on-site on laundry day.
Story by: Huebsch