TD Economics: Toronto's condo building boom is over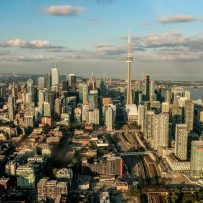 Story by:  Monika Warzecha | BuzzBuzzHome
TD Economics' analysis of the latest data on Canadian housing starts points to softening in the GTA's new construction condo market.
According to the Canada Mortgage and Housing Corporation (CMHC), housing starts in the region rose from 25,041 in February to 30,194 units in March, a roughly 20 per cent jump. However, TD economists Craig Alexander and Diana Petramala believe the spike is just a symptom of volatility, mostly due to the cold snap in February that put a freeze on new construction across the province. Overall, they argue that new home construction has been trending downward since early 2013.
"The current level of starts is well off the peak reached in 2012, and on a six month moving average the pace of new home construction in Toronto is hovering near 2008/2009 recessionary levels. Housing starts are also trending below demographic fundamentals, such as household formation," they noted in an observation published April 10th after the release of the CMHC numbers. Condos are believed to make up about 80 per cent of housing construction activity in the GTA.
Graph from TD Economics Observation published April 10th
Though starts may have slowed down compared to previous years, completions have sped up considerably, raising the spectre of condo oversupply. TD notes condo completions in the GTA were three times the historical average in both January and February 2015. And while sales remain strong, listings remain high and new condo prices have plateaued, "even on a per square foot basis."
Graph from TD Economics Observation published April 10th
Turning to the most recent RealNet Canada figures for the GTA, there were 1,333 new high-rise sales in February 2015. While that was a 9 per cent increase from the previous year, supply remained relatively high with 20,135 units of remaining inventory. By way of comparison, there were 1,465 sales of new low-rises, up 17 per cent from 2014. Remaining inventory was much lower at 6,243 units.
For the future, TD expects completions to stay high throughout the year and into 2016. However, the economists aren't bracing for a crash but a cooling off period, with condo prices expected to slip by 3 to 4 per cent over the next two years.
But there's one last thing that could upset the balance.
"Toronto has already embarked on what is expected to be a multi-year period of underbuilding. However, there is a risk that low interest rates entice more new home building in the near term, which will only exacerbate excesses."