Target demise demands fresh approaches from big-box retailers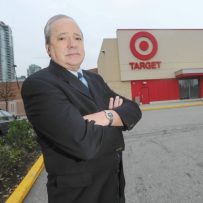 Story by: Evan Duggan, Special to the Vancouver Sun
VANCOUVER — As the bombshell retreat from Canada announced by Target this month continues to rock the national retail property market, a transformation in Canadian shopping culture could threaten the big-chain retail formula, local real estate and marketing experts say.
Canada's chain-store and big-box retail market is changing, said Bob Levine, a principal at Avison Young in Vancouver. Canada's urban population is moving away from the "one-stop shop" culture, and large chain retailers are leasing smaller spaces for their merchandise — especially in urban centres like Vancouver, he said in an interview.
"We're reverting to where we were 50 years ago, where people go out on a shopping trip and they go to the butcher for meat, they go to the green grocer for the vegetables," he said.
"You look at electronic stores — Best Buy, Future Shop. A lot of their stuff is now sold online," he said. "The [retailers] are going into smaller stores. You see that with grocery stores as well … their business is starting to go online too."
In markets like Metro Vancouver, more people are interested in living downtown and "downtown doesn't have room for big-box retailers," he said. "I think the chance of a lot more big-box stores being built in Canada is pretty small."
Many of Target's soon-to-be vacant locations are larger than 120,000 square feet and the retailer will leave vacant 15 million square feet of retail space across Canada. Wal-Mart may take a few locations and grocery store companies could also make a move, Levine said. But very few retailers right now would be after that kind of footprint.
"London Drugs has talked about it, but London Drugs stores are more like 35,000 square feet. These Targets are 120,000-plus square feet," Levine said. "I just don't think that's going to happen."
He said a more likely scenario is that Target locations could be carved up for use by other smaller tenants. "That's not going to be easy," he said. "They're hard to subdivide. I think you're going to end up with a collection of uses. Furniture, appliances, gyms, but none of them are real replacement tenants."
Most of the pain for landlords and neighbouring tenant retailers will be felt in small cities where Target was an anchor and a major draw for other, smaller businesses at small shopping centres, he said.
Several of Target's 19 B.C. locations are in small cities such as Vernon, Cranbrook and Courtenay.
While Target's failure in Canada had mostly to do with its own lack of homework about the Canadian market, it definitely should be considered a warning sign about the country's overall retail appetite, said Lindsay Meredith, a marketing professor at Simon Fraser University.
"It certainly says that, in aggregate, the middle-class taxpayers are pretty much in serious duress," he said in an interview.
Canadians are experiencing record high debt levels and "that means they are very sensitive price shoppers," he said. "They are looking for real high economic value. If they don't perceive that, they're not going to buy."
Meredith, who does consulting work for retail companies, said it's clear that large chain retailers are facing a changing Canadian demographic.
"It's called a rock and a hard spot," he said, explaining that large retailers need to find a low price point, but can't be peddling "garbage" at the same time. "We know one thing, that as population demographics age, they spend less. Their spending patterns change and yes, it goes into health care, it goes into the things like vacation packages in the winter."
The younger generation now starting families is also facing increasingly expensive housing, food and other basic amenities. "All of that leads to serious pressure on take-home paycheques," he said. "There isn't any wiggle room."
Meredith also predicted that small-town malls could suffer the most with the Target pullout.
If small shopping centre landlords can't replace Target with a viable option, "it means those smaller malls will be a little more vulnerable financially," he said. "Because there, the anchor stores do account for some serious revenue."
But on other hand, existing retailers who are getting the formula right in those markets could pick up the slack, he said. "Especially if they are providing a service or goods that people would have gone to Target to buy."
In big cities there is a different model, he added. "There you might have a situation where a large anchor store goes absent and you potentially have other large anchor tenants who see an opportunity to pick up some of that $2 billion dollars in lost retail sales that Target left behind."