Tallest Canada Condo Tower Secures Mortgage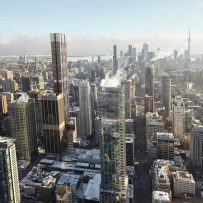 Canadian real estate lender Firm Capital Corp. is helping to finance the country's tallest condominium building.
Firm Capital is lending C$135 million ($108 million) toward a first mortgage on The One, an 82-story tower under development in downtown Toronto, according to Chief Executive Officer Eli Dadouch. The company is the mortgage banker for the publicly traded Firm Capital Mortgage Investment Corp.
Developer Sam Mizrahi is building the condo tower at the former site of a men's clothing store in Toronto's ritzy Yorkville area. The building's luxury suites, sitting atop eight floors of retail, would add much-needed supply of residential units to North America's fourth-largest city amid an inventory crunch that's keeping prices elevated.
"We are proud to be involved, in a small way, with this fantastically located project," Dadouch said in an email. Mizrahi declined to comment.
Mizrahi began assembling the parcels of land for his condo project at the corner of Yonge and Bloor streets starting in 2014 for a cost of at least C$200 million, according to land transfer documents. Prices have climbed since then. Land for high-rise condominiums in the neighborhood are as high as C$170 per square foot, according to June data from mortgage lender MCAP Corp. That's up from C$145 a square foot in June 2015.
The condo project was named in a lawsuit filed against Mizrahi in an Ontario court by his former partners. Khashayar Khavari, the son of Iranian fugitive Mahmoud Khavari, claimed in court filings that he's owed a stake in The One tower. Mizrahi denied that claim in legal documents, saying that the investors had no financial involvement in the tower.
The mortgage would be one of the largest for Toronto-based Firm Capital. The firm run by Dadouch has been lending short-term real estate finance and for special situations for the last three decades.