Take that Toronto, Vancouver! Canada's housing market is now 'a tale of 22 cities'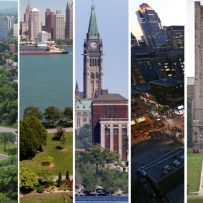 Story by: Pamela Heaven  |  Financial Post
Canada's housing market is no longer a tale of two cities, says BMO chief economist Douglas Porter.
Fresh data showed today that Canadian home sales rose 2.3% in April, the third monthly gain in a row, and a 10% jump from the year before. What is really remarkable, Porter says, is the buoyant figures show there is a lot more to the housing market's resilience than just those two real estate power houses Toronto and Vancouver.
Only four of Canada's top 26 cities reported really weak sales last month — no surprise — all in oil producing provinces, Porter said in a note Friday. Calgary, Edmonton, and Regina were the only cities to post double-digit yearly declines in sales, and Saskatoon declined 9.7%.
But even these laggards are showing signs of stabilizing, with sales flat from the month before, Porter said.
Meanwhile, 16 cities saw double-digit gains in sales, with seven of these showing an increase of more than 20%. Vancouver sales surged 38%.
"The big picture here is that Canadian home sales and prices remain remarkably resilient, and this is not just a Toronto and Vancouver story any longer," said Porter, noting that a number of smaller markets are showing "some real spark."
"Perhaps the most notable item here is that Canadian sales and prices were both up almost 10% from year-ago levels in April, even at a time when the previously hottest market in the country (Calgary) was struggling. Impressive."
For a closer look at individual markets here's Porter's rundown:
"What's hot? Toronto and Vancouver—still."
Vancouver's market got hotter with a 37.7% year over year jump in sales. Porter said prices are now not only the highest in Canada, but also rising at the fastest pace. Toronto sales are up 16.5% year over year. Porter said both remain sellers' markets, but while detached homes are in extremely short supply, condos are much more plentiful.
Markets in smaller Ontario cities also got honourable mention for strong prices and sales. "Near the top of the list this year are Hamilton-Burlington, London, Kitchener-Waterloo, St. Catharines and Windsor — basically a who's who of Canada's manufacturing heartland," said Porter. "In a similar, if more muted fashion, much of Quebec is also seeing firmer activity this year as well."
"What's correcting? Pretty much anything near oil."
Only six markets saw prices drop from April a year ago, including Calgary, Saskatoon and Newfoundland.
The median price gain across the country is 3.5%. "Three 'typical' cities are Winnipeg, Montreal and Ottawa, where sales are up between 4%-to-5% this year, prices are up by roughly 2% so far in 2015, and all made the NHL playoffs this year," said Porter.