SUPREME COURT OF CANADA DISMISSES CHALLENGE OF NEW WESTMINISTER'S RENOVICTIONS BYLAW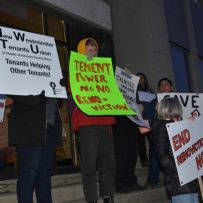 The Supreme Court of Canada has backed the city's efforts to deter renovictions.
According to a press release from the City of New Westminster, the Supreme Court of Canada informed the city on Dec. 9 that it had dismissed an application for leave to appeal the city's rental units bylaw amendment. That decision followed a previous ruling by the BC Court of Appeal, which upheld the city's right to adopt the bylaw amendment to deter the practice of renovictions and to help preserve affordable rental housing.
"Thank you to the Supreme Court of Canada for dismissing the leave for appeal and confirming once again our right to use our powers to take bold actions to protect tenants," Mayor Jonathan Cote said in the press release. "The housing crisis is long from over, and we are committed to working to ensure housing affordability and rental stock are available to anyone who needs it."
In April, the British Columbia Court of Appeal ruled the City of New Westminster had the right to adopt a bylaw amendment to deter the practice of renovictions and to help preserve affordable rental housing.
In response to concerns about the increasing number of renovictions taking place in New West, the city amended its business regulations and licensing (rental units) bylaw to add new regulations to restrict evictions, such as when they can be considered, provisions for temporary accommodations for tenants in cases when evictions are deemed necessary, provisions to prohibit increases in rents after renovations are done, punishments for contravening the bylaw, and occasions when exemptions would be considered. In addition to revoking the business licences of multi-family rental property owners who don't comply with the bylaw, the city established fines of $500 and $1,000 for evicting tenants without permits, evicting without relocating tenants, failing to provide a relocation agreement or providing relocation documentation and implementing an excessive rent increase.
A landlord, 1193652 B.C. Ltd., argued the bylaw was beyond the city's authority in the Community Charter.
Since the B.C. Court of Appeal's ruling, the provincial government made changes to the Residential Tenancy Act that help protect tenants against renovictions throughout the province. That action rendered New Westminster's bylaw amendment (Part 6 of the Rental Units Bylaw) inoperable, so, in November, the city repealed the section of the bylaw that was no longer necessary.
"I'm proud to work for and represent a city that fights for its most vulnerable residents," said Emilie Adin, the city's director of climate action, planning and development. "I've seen our bylaw amendment working as intended to keep residents in their homes. I am so pleased that the Supreme Court of Canada agrees with the important work we're doing."
Story by: New Westminister Record