Supply of condos looks good for the next 3 years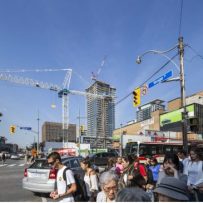 Story by: George Carras Real Estate, TheStar.com
The gap between the prices of houses and condominium apartments is widening — it's grown 44% since last year.
The GTA witnessed a record high for condominium completions in 2014, with 25,571 units delivered, surpassing the previous record of 19,534 new units completed back in 2013.
In 2015, condo completions are expected to drop back to 2013 levels, finishing the year at around 19,000 units, with about 15,000 completed by the end of August.
There are 215 new condominium projects currently under construction across the GTA, so the market has a certainty of future supply of more than 50,000 new condominiums over the next three years.
It should be noted that 86 per cent of those units have been pre-sold.
Development in the GTA and across the Greater Golden Horseshoe has been dictated for over a decade now by provincial intensification policy, and this has meant condominiums have played an increasingly important role in the overall housing market. Today condominiums are arguably the last means of affordable new-home ownership. They've also been the source of much-needed rental housing in the region.
The GTA requires an additional 13,000 new rental units each year to keep up with demographic requirements, according to estimates from Altus Group.
But purpose-built rental housing has been a very small source of new rental stock in the past decade, accounting for fewer than 1,800 units per year. And while purpose-built rental is likely to increase as more institutional investors are entering that market, condominiums continue to serve as the primary source of new rental supply, about 7,000 units each year.
As of August 31, there were 23,057 new homes of all types (detached, semi-detached, townhouse, condominium apartments, lofts, stacked-townhouses) in builder sales centres across the GTA. Highrise condominiums represented 18,759 of them.
Advertisement
Looking at that on a more granular level, 10,064 of those new-home options were in pre-construction condominiums, so about one out of every two new homes in the GTA is a pre-construction condominium that could take anywhere from three to five years to deliver.
Meanwhile, the supply of traditional ground-oriented housing is continuing to decline, while the gap between the prices of houses and condominium apartments is widening — it's 44 per cent bigger today than it was only a year ago.
Welcome to the new reality for an intensifying region that's growing upward via highrise development. Completions may be down, but the condominium is most certainly not out.
George Carras is the founder of RealNet Canada Inc. and the president of RealStrategies Inc. His column appears in New in Homes & Condos once a month. For more information, visit http://www.realnet.ca/ realnet.caEND or Twitter at http://twitter.com/#!/realnet_canada @realnet_canadaEND.