SUDBURY, ONT. LANDLORD SAYS HE'LL NEVER RENT AGAIN AFTER UNIT DESTROYED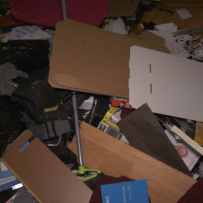 One chapter is now closing in a Sudbury senior's nightmare after renting out his property for the last four-plus years while another one has just begun.
Merle Smith knew there was going to be damaged to his home when the Landlord and Tenant Board (LTB) had finally granted him entry but he never imagined it could have been this bad.
"This has been a total nightmare that I wouldn't wish on anybody," said Smith, surveying the damage within the first 24 hours.
"When I look at the damage they did to this house, what they've done to it and it took the Ontario government who let them live here, on my dime, free-of-charge where I had to pay the expenses since February 26, they should have been out of here."
The first-time landlord had attempted to start eviction proceedings earlier this year but faced delays at the LTB.
CTV News first met Smith at a protest that was being held by the Greater Sudbury Landlords Association which was calling on action from the LTB. He then invited us to see the damage first-hand, just hours after the tenants had left.
Piles of garbage were visible in the front yard as you made your way to the door. Walking inside you were greeted by a pungent urine-like odour emitting somewhere beneath the trash-cluttered floor.
The home had holes in the walls, knife marks in the drywall, burn marks in the vanity and some of the doors were ripped apart and left on the living floor in several pieces.
The furnace was cranked to 100 and had items stuffed into the vents. There was a chill in the air, heat did not appear to be working. Smith added the central air and toilets were all broken.
The toilet bowls themselves were full of human waste.
But it was the kitchen that brought Smith to tears.
"When I look at the cupboard over there and like I say, every time I mentioned the cupboards it makes me cry because if they destroyed this part I could have lived with that but when you destroyed that – you broke my god forsaken heart," said Smith.
The kitchen had been a present to his wife for their anniversary.
This was his wife's family home, she had grown up in the neighbourhood and he estimates they've spent at least $100,000 updating for his in-laws.
Retired, they live on a modest income. He says this is not only affecting him financially, it's affecting his personal health.
"I ended up with open heart surgery, I just about died. I ended up with an infection because my immune system was destroyed. I may lose this leg in the next two years and you know why, because of all the stress. The doctors gave letters to the LTB saying this man is being destroyed by stress," said Smith.
Neighbours tell CTV News the home is well-known to police.
The Greater Sudbury Landlord Association, who has been helping Smith navigate some of the legal hurdles, says this is likely one of the worst cases they've ever seen.
"These just aren't innocent cases where the landlord isn't a bad landlord, so to speak, these are very serious matters where the landlord is losing thousands of thousands of dollars," said association president Ray Goulet.
"There is no need for it."
"I've had to clean up some messes in our own places but this really tops the cake, it really does. This exceeds everything that we've seen," he said.
Goulet says the system failed the Smiths and during the next tribunal meeting, they plan on asking the adjudicator to address the situation for what it is and to judge in favour of the Smiths in hopes they can recover some of the costs.
"I mean we're looking at 30, 40-thousand dollars damage and people live in their houses, they don't do this kind of damage," he said.
Goulet is part of a province-wide steering committee that has been addressing the LTB about some of the outstanding issues facing landlords. He says the problem is not just here in Sudbury, it's all over Ontario.
CTV News reached out to the Ministry of the Attorney General which oversees the Landlord and Tenant Board and was told they will not comment on specific cases.
"The Landlord and Tenant Board, which is part of Tribunals Ontario, is an adjudication tribunal that resolves disputes under the Residential Tenancies Act, 2006, independently of government. To preserve this independence, ministry officials are not permitted to interfere in, or commons on, tribunal processes or decisions," said Jesse Robichaud, Director of Communications for Minister Doug Downey in part through a statement.
Robichaud says the provincial government has taken steps to help the LTB address one of the delays it was facing in hopes of speeding up resolutions.
"Landlord and Tenant Board, in every decision it makes, takes all considerations of both parties into account," the statement added.
In the meantime, the tribunal process will continue for the Smith family.
Smith, a first-time landlord himself, says he will never rent again.
"If this was December 24th and a camel showed up here with Mary and Joseph on it and they wanted to have the baby Jesus in this house, I wouldn't rent to them."
"I will never rent again…You couldn't pay me a million dollars."
Story by: CTV News