Starlight Investments to infuse new supply into Ontario apartment market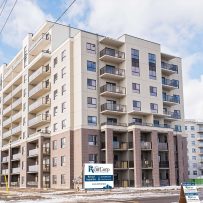 A Toronto-based real estate investment and asset management company has announced the closure of a forward purchase of 283 apartment units in two newly constructed residential buildings in Ontario.
Starlight Investments, which currently manages $7 billion of multi-residential and commercial properties across Canada and the United States, stated that it has acquired the units situated at Sally Creek in 325 Lakeview Drive, Woodstock, Ontario and at Paisley Square in 1042 Paisley Road, Guelph, Ontario.
Together, the acquisitions will be managed on-site by Greenwin Inc., Starlight officials said.
"In addition, Starlight expects to complete the acquisition of an additional 304 apartment units in three newly constructed concrete buildings adjacent to Paisley Square by way of forward purchase contract over the next eighteen months," the company stated.
"Starlight is pleased to expand its presence in Guelph and Southwestern Ontario with the addition of two newly constructed luxury properties. Sally Creek and Paisley Square represent Starlight's third and fourth multi-residential forward purchase contract acquisitions in recent months," Starlight CEO Daniel Drimmer added.
"Together, the Properties exemplify Starlight's robust pipeline of newly constructed properties acquired by way of forward purchase contract."