SOME HOTELS COULD PIVOT TO MULTI-FAMILY RENTALS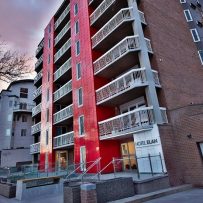 A dramatic plunge in hotel revenues due to COVID-19 and a subsequent demand for subsidized housing has opened a window of opportunity for some hotels to convert to multi-family rentals, according to an Altus Group analyst.
In March, Canada's hotels experienced a 90 per cent drop in revenue as occupancy plummeted to less than 5 per cent nationally, reports the Hotel Association of Canada.
Things have improved since, but CBRE Hotels is forecasting that Canadian hotel revenues will be down 50 per cent this year and will remain at less than 20 per cent capacity in 2021.
"Only after 36 months is the hotel sector forecast to return to pre-COVID-19 performance, " according to the CBRE Hotels Q1 2020 Update.
"Hotel owners and operators are experiencing massive revenue losses, while fixed costs remain relatively unchanged and future demand for hotel rooms is uncertain," said Qaiser Mian, a senior director in the hospitality and seniors housing practice of Altus Group, Toronto.
With little or no cash flowing in and carrying costs continuing, some hotel owners will be forced to sell or transform their assets to other uses, Mian said.
Multi-family rentals could be an option, Mian argues, especially for small portfolios or single-owner hotel properties.
While some hotel owners may consider transforming assets to seniors' rental housing or rentals for students, both require a local demographic catchment and the latter is challenged because of the decline in foreign students this year due to COVID-19 travel restrictions and school closures.
Affordable rental housing, which is being widely promoted by all levels of government, appears the most viable option, Mian noted.
Under its National Housing Strategy, the federal government allocated $55 billion in the 2019 budget to this 10-year plan to help reduce homelessness and improve housing affordability, All levels of government are jointly delivering this strategy.
"But it's challenging for municipalities to cost-effectively build this type of housing. Conversions of hotels with a complementary floor plate can present an attractive solution. At the same time, affordable housing is needed in both major urban centres and smaller markets," Mian noted.
The B.C. government, for example, has purchased four hotels, in Victoria and Vancouver to provide temporary housing for the homeless. The province plans to convert the hotels into long-term, subsidized rentals.
Recently, the non-profit Horizon Housing Society in Calgary purchased a local hotel, The Elan, with plans to convert the hotel to offer 62 affordable housing units.
"It's helpful to keep in mind that affordable housing is independent of economic cycles so it's a particularly appealing alternative use for hotel properties, Mian said.
"Crucially, financial and other support is available from various levels of government to induce supply," he added.
In B.C., for instance, the province paid well above the BC Assessment value for each of the hotels it purchased, despite a lack of competing bids.
Hotel analysts say not all hotel owners would find it feasible to convert to rental housing due to what could be a short-term downturn.
Mian cautioned that there is little chance of reversing a decision to turn a hotel into multi-family housing.
"This is not a hold strategy. This is a shift, a pivot in the use of the building going forward," he said.
"The hotel sector continues to struggle and will face challenges until travel restrictions are lifted, but the industry-wide occupancy has been consistently improving since April and we anticipate a full recovery by 2023," noted Carrie Russell, managing partner of North Vancouver-based HVS, a hotel industry consultancy.
"In downtown Vancouver for example, current occupancy is extremely low, but prior to the pandemic there was a shortage of hotel rooms .Once the recovery is in full swing, the downtown will likely be back to high occupancy levels," Russell said.
Story by: Western Investor