Social housing a provincial priority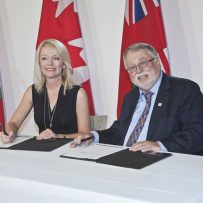 Story by: Allan Benner, The Tribune
Ontario was better off 40 years ago when it comes social housing, said Ontario's Minister of Municipal Affairs and Housing Ted McMeekin.
In the years since, social housing has become "a real scourge and we need to work on that," said the Liberal MPP representing the riding of Ancaster-Dundas-Flamborough-Westdale.
The problem, however, is becoming a priority for the current Liberal government, he added.
"In the coming months we're going to be working very hard on the housing front," McKeekin said, speaking at a breakfast meeting at Riverstone event centre, Friday — the final day of the Association of Francophone Municipalities of Ontario's 25th anniversary conference.
McKeekin, who served as co-chair of the provincial government's cabinet committee on poverty reduction and social inclusion, described a report the committee recently released as "our attempt to eradicate homelessness in Ontario in as short a period as we can."
"I think ironically, we were probably doing it better 40 years ago then we are now," he added. "But 40 years ago the lead partner was the federal government, not the provincial government."
McKeekin recalled a program the Canadian Mortgage and Housing Corp. ran about 40 years ago that provided private developers building social housing facilities with 10% of the total project cost up front, and "extremely low" interest loans were provided to cover the remaining cost.
That program "worked very well," he added.
In addition, McKeekin said the private sector also has a role to play in helping to address the problem.
"We need to find a way to get the private sector to help us build these needed social housing places," he said. "You know how come they don't do it, it's because they're not making any money at it."
McKeekin said he will be meeting with Ontario Home Builders Association next week and plans to challenge its members to work with the provincial government to meet the demand.
"Those that benefit from being able to be employed in Ontario and reap the rich rewards have a particular obligation to stand with those who need help and governments who are prepared to stand with them to help them do that."
McKeekin said he's also like to see a greater scope for social housing issues.
"It's not just investments in affordable housing, but social housing to me is about providing adequate places for women who were the victims of domestic violence, to me it's about palliative care centres where people can go to spend their last days in dignity."
Local AFMO board member, Ward 5 Coun. Rocky Letourneau, was also concerned about lack of seniors housing in this community.
"What is the Ontario government doing for us here in Welland? We could use a number of extra beds and we seem to be held back on that," Letourneau said.
McKeekin said he's working with Premier Kathleen Wynne to find resources to do more for seniors housing.
"We're not there yet. We're a long ways away from it. … We need voices to remind both levels of senior government that anyone can balance a budget if they're not doing anything," he said."You need to make the kinds of investments that reflect the values that Ontarians and Canadians bring, and that's that everybody should have the right to a good quality of life and particularly those who are nearing the end of life."