Small done right and done bright!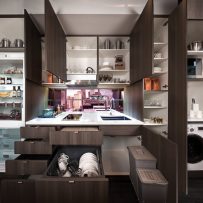 Ground-breaking Urban Capital and Malibu have innovated again. City living doesn't get more inspired, efficient and downright cool than Smart House ­Toronto's first micro-condo, at the über central corner of University Avenue and Queen Street West. When you live this deep downtown you need streamlining and intelligence in order to keep your space functional and affordable. Denizens of New York, London and Tokyo get that concept, but it's taken until Smart House for Torontonians to see small done right and done bright.
"The entire world is urbanizing," explains Urban Capital partner, David Wex. "More and more people are moving to cities and we need to think of better ways to house them in less space. Our company's tag-line is 'Forward Thinking Development' and this didn't just come from some marketing agency. I believe it actually reflects what we try to do, which is to continuously innovate and improve our product."
Much of the Smart House attitude is European; think elegant, dual-duty convenience. At 288 to 778 sq. ft., Smart House's floor plans are cleverly designed to maximize space, and transform in a snap with specialized furnishings, available as part of a sleek furniture package that allows conversions in seconds: a sofa to a bed, or a desk to a sofa, for example. That's if you're not taking advantage of the Smart House fifth-floor show kitchen and lounge, ipe-wood terrace with fire pits, barbecues and alfresco dining areas, or the fully equipped gym and yoga room. All amenities inside and out are designed by renowned envelope-pushers II BY IV Design.
"To say we were deeply thoughtful about this project is an understatement," says Malibu president, Rony Hirsch. "We spent hours thinking long and hard about how people actually live downtown, or would want to live if they could. Storage was a huge priority, as well as kitchens and bathrooms. All are highly efficient and functional by design, but beautiful as well. It's all about progress for us. Just don¹t come to us for anything typical we take extras and make them standard."
This is multi-use in the true sense. Sensitive to its historic storefront neighbours while packing an architectural punch, architectsAlliance has sent 21 residential floors of intriguingly staggered red balconies soaring over two floors of boutique retail topped by two floors of office space. Local height restrictions protect the Smart House views for good. No other condo has or will ever come close to this location – steps from top fashion and dining, a brief stroll from the AGO, opera house, TIFF, Design Exchange and way more, with public transit galore on the doorstep and Bay Street literally around the corner. Maximum innovation, polish and affordability at a uniquely vibrant address, for those who crave downtown 24/7 or just once in a while, or want an excellent ROI renting to other urban oasis seekers who'll take quality over quantity hands down.
Smart is in the details. Every aspect of condo living was scrupulously reviewed and reconsidered for Smart House – pipe space reclaimed as niche shelving in the kitchens and bathrooms, fully built-in ceiling-height closets, kitchen counters that expand and retract at will, integrated compact appliances that do it all (such as combination washer/dryers; convection oven/microwaves and dishwasher drawers). You really have to see it to believe it.
An attitude this counter to clutter is bound to be green; expect most efficient windows, lighting, ventilation and appliances, and individually controlled energy. Technologically, count on highest speed internet and an app to control your temperature, lighting, music system and in-suite alarm with a click, no matter where you are.
Micro-living had to happen in Canada ­ we're just lucky it's being done so meticulously and beautifully the first time, at Smart House. No wonder there's a buzz! Occupancy is slated for March 2017 with prices from the mid $200s to mid $500s. Living at the centre of things is worth it if you're astute about it. Exercise your judgement at Smart House, where the living is very clever.
Story by: Wall2Wall Media