SLIP AND FALLS: HOW TO LIMIT YOUR LIABILITY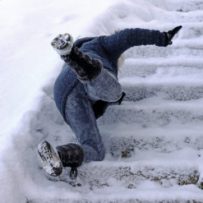 In Canada, winter comes with lots of snow and ice, which can lead to injuries from slips and falls. Property managers will often hire snow removal contractors for services during the winter months and depending on the situation, snow removal contractors will be liable if there is a slip and fall. Please read below to learn more.
Who is Liable if there is a Slip and Fall?
With the increase in personal injury lawsuits in Ontario, multi-residential property owners and managers, including landlords, condo corporations and affordable housing providers need to be thinking about what a slip and fall lawsuit could mean for their bottom line.
Snow removal contractors may be liable when there is a slip and fall, but it will depend on the situation.
Generally, when a slip and fall happens, the Plaintiff will sue the owner of the property as well as the property manager. The Plaintiff will often not know of any contracts with snow removal contractors and, as a result, the snow removal contractor may not initially be sued.
If there is a hold harmless agreement, this may absolve the property owner and/or manager from any liability associated with the slip and fall.
What is a Hold Harmless Agreement?
A hold harmless agreement is generally a provision in a contract where one party agrees not to hold the other party liable for any losses or damages. Property managers should ensure that they have signed a hold harmless agreement with a snow removal contractor so that they are not held liable for any losses which occur on the property. This means that in the event that a slip and fall does happen, the property manager will not be liable for the slip and fall and instead, the snow removal contractor will be liable.
It is important to contact a lawyer to ensure the proper wording and correctness of any hold harmless agreement.
Generally, in a hold harmless agreement, there will be a provision requiring snow removal contractors to have insurance. However, it is important to be aware that it has become increasingly difficult for snow removal contractors to obtain insurance coverage in Ontario due to the large number of snow removal related insurance claims which are often related to slip and falls. It is very important to ensure that snow removal contractors have appropriate insurance prior to entering into any snow removal contract and/or hold harmless agreement with these service providers.
How Long Does a Plaintiff Have to Make a Claim if a Slip and Fall Happens?
Although it will depend on the exact situation, currently, according to the Limitations Act, 2002, S.O. 2002, c. 24, Sched. B., a Plaintiff has two years to make a claim from the date that the Plaintiff slips and falls. Please note however that the Ontario government is in the process of reforming the laws surrounding iability for slip and falls.
Bill 118, which proposes an amendment to the Occupiers Liability Act, R.S.O. 1990, c. O.2, passed second reading in Queens Park on June 6, 2019. Bill 118 states that a Plaintiff will need to provide written notice to the occupier of the property, independent contractor and/or the landlord within 10 days of the slip and fall. Note also that, according to the Municipal Act, 2001, S.O. 2001, c. 25, if a Plaintiff slips and falls on city property, a Plaintiff must notify the city in writing within 10 days of the slip and fall.
Keeping a Maintenance Log
In the event that a property manager is sued, it is important for a property manager to keep up-to date maintenance logs with respect to snow and ice maintenance. As a best practice, a property manager should make note of the date and time the snow removal company removes snow and how much snow has fallen.
As well, it is a best practice to ensure in any contract between a property manager and snow removal contractor that there is a provision with respect to salting to prevent ice as required by weather forecasts. It is important to also make note of when the snow removal contractor attends on the property to apply salt.
Contact Your Insurance Company
If you are sued, it is important to contact your insurance company immediately. Depending on your coverage, they will assist you with defending any claim.
Any Questions
As always, each individual circumstance is unique. This article is intended to provide general information with respect to potential liability for snow removal contractors with regard to slip and falls. It is always best to contact a lawyer with any specific legal questions you may have.
Story By: Jessica Naujokaitis, Associate, Cohen Highley LLP and Laura Glithero, Partner, Cohen Highley LLP