Skyline Apartment REIT Acquires New Properties!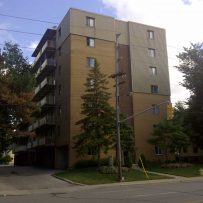 On Friday, October 4th, 2013, Skyline Apartment REIT made its first purchases in the city of Sarnia, ON.

The first property, at 200 London Road, is comprised of 49 units and had a purchase price of $2.8 million. The property has lots of surrounding green space and is minutes from Lambton Mall. The second property, at 1100 Wellington Street, is comprised of 29 units and was purchased for $1.4 million. The property is a short distance from the city's waterfront (with Port Huron, Michigan just across the river), and is also close to schools, the YMCA, and the community centre and arena.



The following week, on Monday, October 7th, 2013, Skyline Apartment REIT acquired another property in the city of Hamilton, ON, where it is already well-established with five multi-residential holdings. The Towers at 145 & 165 Queen Street were purchased for $16.6 million and boast 250 units collectively. The Towers are located in the city's downtown core, in close proximity to schools, shopping, public transit and parks.

"The Queen Street complex is a significant and strategic acquisition for Skyline Apartment REIT in the City of Hamilton," says Mike.  "This 250-unit complex is located very close to our 255 Bold Street and 99 Herkimer Street properties.  With the addition of this property, we now own 675 units within Hamilton, and are one of the city's largest landlords.  This type of presence will help us push market rents in our existing buildings, and provide a variety of options for tenants looking to live in a 'Skyline Owned and Managed' building."

Post-acquisition, Skyline Apartment REIT currently comprises 9,986 apartment units in 125 properties spread out across 43 communities in four provinces, and approximately 700,000 square feet of commercial space. The total internally appraised IFRS value of Skyline Apartment REIT is approximately $946.22 million.