Skeptics of Trump's New Nafta Head South of the Border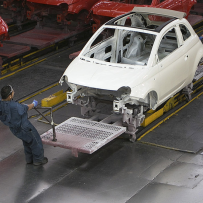 A group of U.S. lawmakers will meet in Mexico City starting Friday with industry experts and officials including President Andres Manuel Lopez Obrador, hoping to resolve their concerns about the U.S.-Mexico-Canada Agreement. House Ways and Means Trade Subcommittee Chairman Earl Blumenauer is leading the delegation. House Democrats want to discuss what they see as deficiencies in the USMCA's labor and environment chapters.
Lopez Obrador earlier this week said he encourages passage of deal as soon as possible, and Canada is also rooting for progress. "We obviously see the ratification of the USMCA as being critically important," Canadian Finance Minister Bill Morneau said in a Bloomberg Television interview. "I'm optimistic that we are going to get there."
There's been a flurry of activity in Washington in recent days:
U.S. Trade Representative Robert Lighthizer has been is holding weekly meetings with Democrats to discuss changes to the deal and is pushing for a vote in the fall.
House Ways and Means Committee Chairman Richard Neal told reporters the agreement shouldn't be allowed to "languish into next year" without a vote.
Trump says congressional Democrats could block USMCA but he has a "plan B." "If it doesn't happen, I have a better plan, so don't worry about it," Trump said this week.
The U.S. should remain in the old pact — Nafta — if USMCA isn't approved by Congress, Senate Majority Leader Mitch McConnell told Fox Business Network. "I don't think we ought to walk away from Nafta if we can't get this done," he said.
At stake is a lot more than the $1.2 trillion in goods the U.S. traded last year with its two closest neighbors. Trump ran in 2016 touting his deal-making prowess and securing a revised Nafta would bolster that impression heading into his reelection bid.