SHORT-TERM PROPERTY RENTALS START TO REBOUND AS ECONOMY REOPENS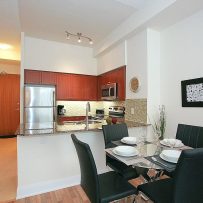 Airbnb and Vrbo bookings in major Canadian cities are increasing as the economy reopens and travel restrictions ease.
The number of booked nights has risen steadily since hitting a low in February when the country had a surge in COVID-19 cases, according to new data from AirDNA, a research firm for real estate investors and property managers.
In Toronto, booked nights climbed 32 per cent to 38,486 from February to June, 2021, while booked nights in Vancouver rose 66 per cent to 22,032 over the same period, and Montreal jumped 60 per cent to 47,625.
"We expect a rebound in urban demand as restrictions are lifted and vaccinations pick up speed," said AirDNA spokeswoman Madeleine Parkin. Booked nights are still well below 2019 levels.
The emptying of the downtown cores during the pandemic triggered Airbnb and Vrbo hosts to yank their rentals off the platforms. Hosts either tried to sell their properties or turn them into long-term rentals. Now, active short-term rental listings in the three cities are about 50 per cent lower than in 2019.
Many investors used to buy condos to rent them on Airbnb and other short-term rental platforms, but the trend shows signs of waning, said Brendon Cowans, vice-president of sales for Property.ca, a real estate brokerage that specializes in condos.
"Some are trying to cash out. It is not as lucrative as before," he said. "Investors are not looking at condos as they used to, and if you buy in a condo [building] now, it is unlikely you are doing it just because you want to put it on Airbnb."
Mr. Cowans said sales listings and long-term rentals soared from 2019 to 2020 in downtown Toronto condo buildings that were known for short-term rentals.
At Ice Condominiums near the waterfront, the number of sales listings tripled from the second quarter of 2019 to the same period in 2020, while the number of long-term rentals available spiked from 15 units to 247. This year, the number of sales listings is still above 2019′s level, and the number of long-term rentals available was 129 units in the second quarter, according to Mr. Cowans's research.
Toronto and Vancouver were already struggling with housing shortages before the pandemic's real estate boom sent home prices to record highs. Both cities have imposed new rules to ensure investors and homeowners are not turning their long-term rentals into ghost hotels. For example, in Toronto, a short-term rental is anything rented for fewer than 28 days. Hosts are only allowed to rent out space in their primary residence and must pay a tax on rental revenues.
Even though travel is picking up, the new restrictions in Toronto make it harder for short-term rental hosts to turn a quick profit. Spokespeople for Airbnb and Vrbo would not comment directly on whether activity would return to prepandemic levels except to say that demand has increased.
"People are ready to travel," Airbnb spokesman Charlie Urbancic said, adding that bookings have increased sharply since restrictions have eased, similar to what occurred in Britain and France.
While bookings in urban centres slowed, they jumped in smaller cities and vacation regions such as Kelowna and Whistler in British Columbia, Canmore in Alberta and cottage country in Ontario, in part because of travel restrictions and work-from-home mandates.
Vrbo spokeswoman Nancy Lien said bookings in Kelowna were 20 per cent higher in the first half of this year compared with the first six months of 2019, and in Huntsville, Ont., bookings were 50 per cent higher over the same period. Vrbo attributes part of the decline in the major cities to the difficulties U.S. travellers face because of border closings and other restrictions.
Story by: The Globe and Mail