'Shock and awe': Life in Doug Ford's Ontario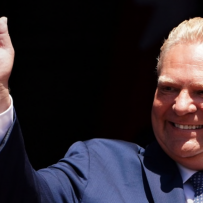 Doug Ford has wasted little time in his first month as premier of Ontario, leaving the business community to wonder whether a "shock and awe" approach can be sustained for his full term.
The newly minted Progressive Conservative leader has kicked off his tenure at Queen's Park by moving rapidly on a number of fronts – from carbon taxes to cannabis retail – Toronto city council and more. Every move thus far appears to have been designed to fulfill campaign promises to his supporters while inflicting maximum pain on his opponents.
While former political insiders say the strategy could serve Ford well for now, it could pose a problem for the rookie premier in the future. And in the meantime, his moves have injected uncertainty into the provincial economy.
"[Ford is] demonstrating a certain shock and awe approach, which is a lot of action early on that is going to confound and preoccupy his critics and opponents," said Peter Donolo, vice chairman of Hill + Knowlton Strategies Canada who previously spent two years advising the former Liberal-led provincial cabinet and served as communications director to Prime Minister Jean Chrétien in the 1990s, in a telephone interview with BNN Bloomberg.
"The old adage is you can't hit a moving target, so if [Ford] is very active on a bunch of fronts then it is very difficult for his opponents to keep up," Donolo said.
"A key question for him is going to be whether he was elected as a disruptor or as someone who would impose some, to use a [former Ontario PC Premier Mike] Harris term, 'common sense' approach, [because] he is behaving as if he were elected as a disruptor."
David Tsubouchi, a former member of Ontario's provincial parliament who served as a minister in the Harris and Eves cabinets, argues the shock and awe approach is a necessary one for Ford.
"If you come in as a small-r reformer then you need to be continually doing change," Tsubouchi told BNN Bloomberg via telephone. "I think our failure as a government [under Mike Harris and later Ernie Eves], was that we stopped doing that. Big reforms are harder to do as you get further into your mandate."
Modern politics being what it is, "you can't just do your good deeds, you also need to piss off the right people," Andrew MacDougall, a U.K.-based commentator who previously served as communications director to former Prime Minister Stephen Harper, told BNN Bloomberg via telephone. "There has been quite a confrontational attitude from Ford of, 'If you don't like what we're doing too bad'."
"This all works well for him, the chaos," MacDougall said, "It allows [Ford] to say of course there is chaos because everything was terrible and now everything has to change."
The strategy has thus far been successful at keeping his base energized and his opponents antagonized, but it has also left critical areas of the Ontario economy hanging in the balance. Ford's plan to privatize the sale of recreational cannabis in the province – which has been widely reported but not yet confirmed by the Premier – has injected uncertainty into a sector expected to generate more than one billion dollars in annual sales in Ontario alone with barely nine weeks left before legalization takes effect in mid-October.
"It is virtually impossible to get retail outlets up and running in that timeframe unless you're using existing retail," Scott Addison, president of brokerage for commercial real estate firm Colliers Canada, told BNN Bloomberg via telephone. "It is a tight, tight timeframe [and] it is going to cause further delay because I don't think anybody is going to want to commit to a long-term lease or any term of lease without knowing what the rules and regulations are going to be."
Despite the uncertainty, Canopy Growth CEO Bruce Linton told BNN Bloomberg last week that his company could open over 100 recreational cannabis stores in Ontario ahead of the Oct.17 legalization date.
Ousting the leadership team at provincial power distributor Hydro One provides another example of economic collateral damage from the Ford doctrine. Despite being among his more specific campaign promises, getting rid of CEO Mayo Schmidt and the utility's board of directors has cut the value of Hydro One shares by more than six per cent over the past month and increased the risk factors surrounding the company's $6.7-billion deal to buy Washington state-based utility Avista.
"The move on Hydro One is an example of the tension between a small-c Conservative government and a populist government," Drew Fagan, a professor at the University of Toronto's Munk School of Global Affairs and Public Policy and a former assistant deputy minister in the federal and Ontario governments, told BNN Bloomberg via telephone. "What you're going to see over the months, and possibly over Ford's entire term, is that tension playing out in various ways."
If Ford is not careful, Hill + Knowlton's Donolo warns the new Ontario premier could mistake the short-term success of his "shock and awe" approach as evidence that the strategy will remain effective longer-term.
"Most politicians mostly learn the wrong lessons, and I say this from long experience," Donolo said. "While it is possible this kind of shock and awe approach might carry the day in the early stages, the problem is the lesson [Ford] will learn is to act brazenly."
"If that is the case," Donolo said, "then the next four years are going to get increasingly difficult for him."