'SELL US YOUR RESIDENTIAL BUILDINGS', MONTREAL TELLS PROPERTY OWNERS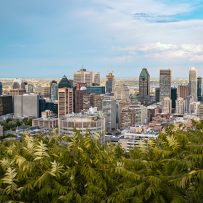 The City of Montreal and the Société d'habitation et de développement de Montréal (SHDM) have been acquiring rental properties and rooming houses in order to keep rents affordable for dozens of tenants, but those are small gains compared to what's needed to ease the city's housing crisis.
Canadian Apartment REIT (CAPREIT), Canada's largest listed rental housing provider, wants to sell hundreds of units in Montreal, particularly in the Côte-des-Neiges–Notre-Dame-de-Grâce (CDN–NDG) borough, Radio-Canada has learned.
"We're open for business, come talk to us," CAPREIT President and CEO Mark Kenny said.
The Toronto-based company owns more than 60,000 residential apartments, townhouses and community-based prefabricated homes.
It says it hopes to sell more than $500 million worth of existing properties and reinvest in brand new properties, particularly in Quebec, and it understands government interest in housing.
Montreal has notified CAPREIT in recent months that it intends to exercise its right of first refusal in order to buy the properties if the company is preparing to sell them.
Right of first refusal
CAPREIT is not the only owner with buildings that the city is interested in buying.
According to a data compiled by Radio-Canada, since last year, nearly 350 owners received an official notice from Montreal informing them that their building or land was subject to the city's right of first refusal.
This right gives the city the option of buying the property before anyone else can offer to purchase it.
Benoit Dorais, the vice-chair of the executive committee and the councillor responsible for housing, says property owners should reach out to the city if they want to sell property.
"If you want to sell things that maybe less attractive to you because you can't make as much profit as you want, well, our goal is not to make profit, it's to meet needs," he said.
"If we manage to agree on a reasonable price, we can make a transaction."
Among the properties the city is interested in purchasing is a hostel in downtown Montreal.
Saving rooming houses
About half the residential properties subject to the city's right of first refusal are in the Ville-Marie, CDN–NDG and Sud-Ouest boroughs. About 100 of those buildings are rooming houses — where a tenant rents a single room and has shared use of the kitchen and bathroom.
The number of rooming houses has been in decline over the past 15 years, and Dorais says the city is keen to preserve them.
"The rooming houses, we have to keep them. They are really the last bastion against homelessness," said Dorais.
"They allow someone who lived in a room to be able to keep their home safe from speculation, safe from renoviction, safe from the fluctuation of economic cycles."
Montreal has budgeted $600 million to buy land and buildings over 10 years.
The city does not intend to hold onto this real estate, said Dorais. Its goal is to take rooming houses out of the regular speculative market and transfer them to non-profit organizations that have a mission to house people.
In the greater Montreal area, the percentage of social and community housing has stalled at 6 per cent for 20 years, according to data from the Greater Montreal Observatory.
But at least 20 per cent of the region's housing stock should be social or affordable housing, said Sébastien Parent-Durand, executive director of the Alliance of Affordable Housing Corporations in Greater Montreal (ACHAT).
"With the the housing crisis, people are really under a lot of financial pressure, and the rents are getting higher and higher," said Parent-Durand.
"We think with 20 per cent of the offer on the market, we would be able to answer the real needs of population."
Story by: CBC News