School deal is the first of its kind and could be a model for the future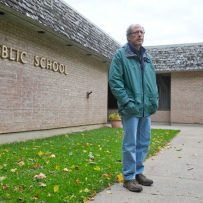 Story by: By Norman DeBono, The London Free Press
The city has bought a north London school — and it could be the first of many.
In a pilot project, the former Sherwood Forest public school site will become home to single-family homes, townhouses and a park, but it won't be a developer calling the shots.
The city is readying the site for sale to a builder, but there's little chance of a legal or development scrap because the city — in a move that's the first of its kind — is zoning the site and controlling exactly what can be built there, with input from the neighbourhood and home builders.
"We need to consider this more as we go forward with schools and the potential vacancies they create," said Mayor Joni Baechler. "It is something staff are talking about now."
With enrolment falling in many Ontario school systems, more schools in already-built neighbourhoods are coming onto the market. The fear was a developer would buy the Sherwood site from the Thames Valley District school board and want to build a high-density project, in a single-family neighbourhood, leading to battles before the Ontario Municipal Board, Baechler said.
If the rezoning gets by city council, the city will call for proposals for development "This is a pilot project for other school closings," said Sandy Levin, president of the Orchard Park Sherwood Forest ratepayers group.
"We will continue to see more of this as schools close. The city had a very deep, thorough consultation" with the public about the site, one he said would be unlikely if it had been sold to private interests. Baechler said the development recommended by staff to a city council committee is compatible with the single-family neighbourhood.
"This is one of the first times we are trying to control the development of a site," she said.
"Schools are the heart of neighbourhoods. When they close, the community loses a focal point. Someone could have bought it and tried to pack it full of housing," she said.
The board closed the school in June 2013. The city agreed to a deal to buy it this past May.
Area residents wrote to city staff, advocating for a park and low-density housing.
"I thank the city staff for their willingness to work with our neighbourhood to arrive at a solution where we can retain approximately one-third of the site as parkland with a development on the remaining land" that fits the area's character, wrote Richard Duench of Wychwood Park.
The ratepayers group asked members for feedback and found overwhelming support, said Levin.
Ontario law forbids municipalities from flipping land to builders for profit, but allows them to buy and resell if it has a "municipal use," such as the green space proposed at Sherwood.
— — —
THE SITE

Size: 2.23 hectares (5.51 acres)
Proposed: 10 single-family homes, 24 townhouses, 0.7 ha (1.73-acre) park.