SASKATOON'S TIGHT HOUSING MARKET AFFECTING RENTALS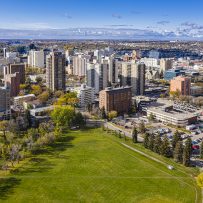 A new report suggests Saskatoon is the second most affordable city in Canada to rent in, but that doesn't mean prices are low.
With the housing market tight for buyers, added pressure is being put on the rental market, and it's expected to get worse over the next few years.
Using data from Rentals.ca's internet listing database, the average rent price in July hit another record of $2,078 a month.
While Saskatoon ranked 34 out of 35 cities in terms of rental cost at $1,132 a month, the price continues to climb.
"Luckily, my rent is affordable," said Laura, a University of Saskatchewan student. "I have some friends and their rent is upwards of $1,300, and that's on top of textbooks and tuition and food."
The Saskatchewan Landlord Association says those rising prices are due to similar reasons as the homeownership market.
"Rental rates are increasing steadily over the past six to 12 months," said Cameron Choquette, CEO of the Saskatchewan Landlord Association. "And it's likely to continue to do so for those two reasons, inflation and lower vacancy."
The Saskatoon and Region Home Builders' Association says the supply of rental units has increased in the city, hitting levels not seen since 1990. Nearly three-quarters of all new units completed last quarter were apartments for rent.
But the Canada Mortgage Housing Corporation says strong population growth will drive vacancy rates from the current rate of 2.5 per cent this year to 1.8 per cent in 2025.
"Demand is so high, we literally can't build fast enough," said Choquette. "Completions are being pre-leased months in advance, and we're as full as we can be right now."
With post-secondary institutions welcoming back students for another semester, the University of Saskatchewan says all 2,200 available student residences have been booked for the fall.
"I'm fortunate enough to have a boyfriend who bought a home," Laura said. "If I was on my own, I don't know when I'd be able to afford a house with tuition and loans and everything."
Choquette says the increased cost of home ownership has added pressure to the rental market because people aren't leaving apartments.
"Those increased homeownership costs keep people in the rental market longer, which again reduces that churn, reduces the ability for rental housing providers to bring new tenants into the fold," Choquette told CTV News. "If we see the interest rate come down in the next year, two years, that will help that churn. But really, we need to build more rental units in Saskatoon and Regina, across the province and really across the country."
Story by: CTV News