Saskatoon apartment vacancy reaches record levels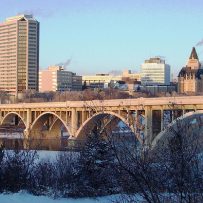 Figures from the Canada Mortgage and Housing Corp. showed that the vacancy rate in Saskatoon's roughly 13,500 apartments has breached the 10.3 per cent mark as of last November, representing an unprecedented increase from the 6.5 per cent in the same month in 2015.
These numbers sit far beyond the CMHC's 5 per cent ideal, Saskatoon StarPhoenix reported. And Colliers International managing director Tom McClocklin argued that the actual vacancy rate has grown to even higher levels (as much as 16 to 18 per cent) since October 2016.
"If our economy kept running at the same rate, it probably would have been fine, (but now) you've got decreasing demand and a significant increase in supply," McClocklin stated.
A significant effect of these developments is the flourishing of various incentives for would-be tenants, as landlords are usually loath to cut rates. However, McClocklin predicted that greater caution among Saskatoon developers (in response to the city's apparently continuous growth) would lead to a noticeable drop in the vacancy rate over the next few years.
A PadMapper analysis found that at present, a two-bedroom apartment in Saskatoon can be rented for $990—considerably lower than the $1,100 price level back in June 2016.