SASKATCHEWAN RENTAL PRICES ON THE RISE BUT REMAIN LOWER THAN NATIONAL AVERAGE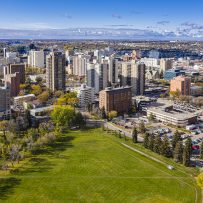 In both Saskatoon and Regina, rent prices are on the rise.
According to the latest rent report from Rentals.ca and Urbanation, the average monthly rent in Saskatchewan went up to $1,097 in June. Across Canada, the average monthly rent cost sits at $2,042."Money is the big issue."
That is becoming a sentiment increasingly shared by those looking to rent in Saskatchewan, and it's no different for Toufikur Rahnan, who is searching for a roommate in Saskatoon to help with rental costs.
Rahnan said of the two times he gets paid a month, three-quarters of all his earnings go towards rent.
"The rental market is too high," he said. "There is nothing left for me to save up or spend on anything or go on vacation."
According to economist Jason Childs, people can expect rent prices to continue to grow throughout the year.
"Rates are climbing a lot and we are seeing lower vacancy rates than maybe might be ideal," Childs said.
Childs said the rise in inflation is causing landlords to increase their costs to keep up.
"Not only do consumers and renters have to keep up with inflation … but landlords have to keep up as well, and they have the extra cost of the interest payments. And with the bank rate now at five per cent, those interest costs can be very substantial," Childs said.
Childs said one of the things that makes rent prices difficult is there are very few ways to cut back on costs.
"Rent is one of the first things that's going to come out of your pocket," he said. "If you're going to cut down on rent, you have to move. Oftentimes what you'll see is people respond to higher rents by cutting down in other places like driving less or cutting back on groceries."
Year over year, the average monthly rent in Regina for a one-bedroom was up 8.1 per cent; a two-bedroom was up 13.4 per cent.
Meanwhile, in Saskatoon, the average monthly rent for a one-bedroom was up 14.2 per cent while a two-bedroom rose 9.6 per cent.
Cameron Choquette, the CEO of the Saskatchewan Landlord Association, echoed a similar sentiment to Childs, saying inflation has pinched the rental market.
Now any improvements such as shingles or a new door cost the landlord more money than before.
"Unfortunately, sometimes we need to charge the rents we do in order to make sure that we can operate that property," he said. "We're going to have to get creative this fall because there really aren't enough housing units," he explained.
Story by: Global News