SAINT JOHN ADDS RECORD NUMBER OF APARTMENTS BUT IT'S NOT ENOUGH TO MEET DEMAND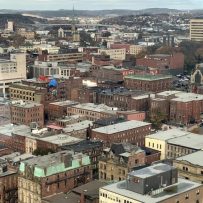 The Canada Mortgage and Housing Corporation (CMHC) says the vacancy rate dropped to 3.1 percent in 2020 from 3.3 percent a year earlier.
David Dobbelsteyn said the tightening rental market came despite a record 228 new apartment units added in the city in 2020.
"What this means is that development has not yet kept up with demand, so this is a good and bad thing," Dobbelsteyn told members of the city's growth committee this week.
"It's not good because lower vacancy rates tend to correlate with increases in rent. The good news about this is this is good news for the city in terms of attracting new development. It's telling us that there is a lot more opportunity for developers to set up shop here and to build more units."
Average rent prices in the city climbed by 3.6 percent in 2020. A two-bedroom apartment, on average, now rents for $825, compared to $949 in Moncton and $979 in Fredericton.
The highest rent increase in Saint John came in the central peninsula, where the average rent increased by 5.3 percent.
Dobbelsteyn said while it is concerning to see rent increases well above inflation of 0.62 percent, it is on par with the Canadian average.
Coun. David Hickey, whose ward includes the central peninsula, said he is growing more and more concerned about affordable housing in the city.
"You've got to consider that 34 percent of families in Ward 3 live in poverty. On top of that, 50 percent of children live in poverty," said Hickey.
Hickey also referenced 2016 census numbers which show 36 percent of renters in Saint John are spending 30 percent or more on shelter costs and almost 14 percent are spending 50 percent or more
Dobbelsteyn said one way to lower rent costs is by boosting the number of available units, which the city has been trying to do. He noted over half of the growth in 2020 happened in the uptown area.
"Developers, from what we are witnessing, are often pushing the higher-end units," he said. "We're trying to have conversations about how do we get more affordable housing in Saint John, how do we get more of that sort of middle-of-the-road rental units like the $800-to-$1,400-a-month units."
The city is working on an affordable housing action plan. Stakeholder engagement will take place over the coming months with the implementation plan set to be released in December.
Story by: Huddle