RUNAWAY RENTAL DEMAND MEANS AVERAGE APARTMENTS ARE GETTING 100+ ASKS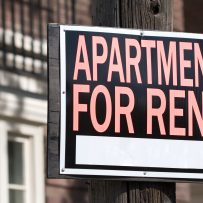 Finding an apartment to rent in Vancouver is practically like winning the lottery these days and amidst this runaway rental demand, even ordinary rental units are attracting dozens of applications.
In June, Daily Hive reported that a one-bedroom apartment for rent in Burnaby asking $2,400 per month in rent received nearly 200 inquiries.
Rental demand seems to be at an all-time high in Vancouver, so we asked local rental experts to tell us more about this demand, what's driving it, and how tenants can stand out in a literal sea of applications.
Rental demand in Metro Vancouver
Here's a snapshot of a few popular listings on the liv.rent platform to give you a sense of how hot rental demand in Metro Vancouver is right now.
This is a 950-square-foot two-bedroom apartment in Surrey.
Priced at $2,500 per month, the unit attracted 51 inquiries and 16 applications. It was on the market for 17 days before it was rented.
This one-bedroom apartment in Vancouver's Mount Pleasant neighbourhood is just 555 square feet but it commanded a rental price of $2,300. It received 70 inquiries, 21 applications, and was on the market for 19 days.
Finally, liv.rent told Daily Hive that a 606-square-foot one-bedroom apartment in Richmond asking for $2,100 in rent received 107 applications and was on the market for just seven days.
Why is rental demand so high?
Frank Jing, senior manager at Refinity Homes, said his team has seen an "influx of new immigrants from Asia and the US," applying for rentals.
Oscar Barrera, OB Sold Real Estate with 88 West Realty, said that his team is experiencing a lot of demand across its listings. "The summer months create a strong market for rentals," Barrera said, adding that people don't want to move in the snow.
According to Barrera, recent tenants include lots of new immigrants, people employed by tech companies like Amazon and Microsoft, plus the demand from folks who work in the local film industry.
Rental expert at liv.rent Paula Azevedo said that one and two-bedroom units receive high numbers of inquiries and applications because of their popularity and price. But she says that a growing trend is furnished three-bedroom apartments, priced at around $4,290.
These units are "quite popular among international students wishing to move in by August 1 and September 1," said Azevedo. These renters are typically looking for a co-living experience and have a budget of $1,200 to $1,500 per person.
"Most of those renters are relocating from different provinces or countries, with many being international students and/or working professionals with work permits," she said.
How do you stand out amongst the inquiries?
Daily Hive asked the experts at liv.rent and its clients about what successful applicants had that made them stand out from the dozens of other apartment seekers.
Frank Jing told Daily Hive that what his team is looking for from a potential tenant is that they're easy to talk to, responsive, and have flexibility.
"The goal is for a mutually smooth experience after the new residents move in and that the property will be well taken care of," said Jing.
Oscar Barrera told Daily Hive that a recent successful applicant for one of their listings was chosen because  "he was super polite, fast, and easygoing. He was an open book and did not bother with our questions or process. The applicant also had an excellent credit score, references, a damage deposit, and took possession immediately.
Securing the rental
Paula Azevedo has insider knowledge of what landlords are thinking during the tenant screening process and shared her tips for doing all you can to secure your next rental apartment.
"There are various factors involved in the tenant screening process. For newcomers without a credit history in Canada, for example, (we analyze their proof of funds, which can come from savings, school loans, or financial sponsorship from a parent, for example."
That amount should be enough to cover six to 12 months of living expenses, including rent, utilities, groceries, and transportation.
"We also analyze the rent-to-income ratio, ensuring that they can spend less than 30% of their annual income or savings towards rent," said Azevedo. In expensive cities like Vancouver, many pay more than 30% of their income on rent, as liv.rent reported in June the average percentage of income spent on rent is 44.87%.
Azevedo said they also "consider tenants' ability to communicate with the leasing agents successfully and respectfully (as) this often speaks to their communication style when they become tenants."
Renters with pets are asked to show documents like training certificates, vaccination records, and veterinarian records.
And while credit scores and credit histories are valuable for landlords, other factors like employment and income verifications, reference checks, and other screening questions come into play.
Story by: Daily Hive