Rolling Out Legal Weed Comes With a High Price Tag for Canada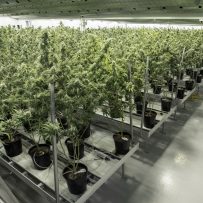 Enforcing Canada's new legalized marijuana comes with a high price tag.
The federal government will spend C$546 million ($426 million) over the next five years to implement its new cannabis laws, according to the latest budget forecast. Agencies such as Heath Canada and the Royal Canadian Mounted Police will receive a portion of the funds to license, inspect and enforce the new rules. A "cost recovery scheme" will also be implemented to reduce the overall spending on the initiative, according to the document.
The country is aiming to legalize recreational pot before next July, and would be the first major economy to do so. The plan has led to ballooning values in Canada's nascent marijuana industry, with Canaccord Genuity Group Inc. estimating sales could reach C$6 billion annually by 2021. While the federal government will regulate the production of marijuana, Canada's provinces will set up sales and distribution regimes. Prime Minister Justin Trudeau has proposed a tax of C$1 per gram on sales of marijuana, with the money being split between the federal and provincial governments.
— With assistance by Josh Wingrove