Rental housing is the future – RioCan CEO Edward Sonshine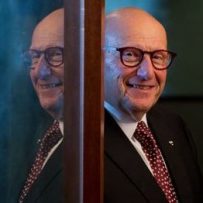 Edward Sonshine, chief executive officer of RioCan Real Estate Investment Trust, says he's known as Darth Vader in the downtown Toronto neighbourhood where he battled to put up a Wal-Mart Stores Inc. outlet.
RioCan, Canada's largest REIT, wants to locate chain stores where people are moving — into the center of North America's largest cities. Sonshine plans to build rental apartments on top of his retail empire to capitalize on growing populations in places like Toronto, Calgary and Austin, Texas.
For years, the 67-year-old developer fought residents opposed to his plan of including a Wal-Mart in RioCan's proposed retail and office complex near Kensington Market, a district of international grocers and vintage clothing stores.
"What you have is a finite amount of retail space and it's hard to build more in this world," Sonshine, who founded the company in 1993, said in an interview at Bloomberg's Toronto office last week. "Witness what we're going through at Bathurst Street. Build a few floors, and I'm the Darth Vader of Kensington."
RioCan took a step back last week, axing the big box retailer from its latest submission to the City of Toronto. Sonshine, whose father used to take him to Kensington market on Saturdays when it was a hub for Jewish bakeries and shops, isn't backing down from his urban push.
"That's where we used to shop," Sonshine said. "It's not like that anymore. It's become quite trendy and very focused. It is a jewel of Toronto, a different kind of jewel."

Scarab Beetles
After building the REIT into a $7.93 billion company by developing shopping malls in suburbia and renting them out to retail tenants, the CEO is shifting toward mixed-used properties. Sonshine plans to build 3,000 to 4,000 residential rental units in the next five years and has three sites under consideration in Toronto.
Canada's largest retail landlord intends to spend at least $600 million over that time on the strategy. Many of the rentals will be perched atop the company's tenants, including Target Corp., Canadian Tire Corp. and Wal-Mart Stores.
"Long term, you can never go wrong owning rental residential in good areas of a good city," said Sonshine, his gold scarab-beetle cuff links flashing as his hands moved over the table, emphasizing a point. "No one is interested in one-off profits. The value will be better by keeping that rental residential real estate."
Census Geek
RioCan shares have risen 5.9% this year, outperforming the 2.4% increase in the 39-member Bloomberg Canadian Real Estate Investment Trust Index. The stock, which fell 10% last year along with the REIT index amid concerns over rising interest rates, has four buys, five holds and no sells among analysts who research the firm.
The Toronto-based company has been pulling out of smaller Canadian cities such as Sault Ste. Marie where populations are stagnating. RioCan, which made the moves after Sonshine began reading detailed census reports in 2004, shifted assets so that 73% of revenue today flows from urban centers. Over the next five years, that figure will reach about 80%, with a bias to Toronto, Calgary, and Ottawa, Sonshine said.
There hasn't been a substantial number of rental apartments built in Toronto, a city in the midst of a condominium boom, in the last 40 years, he said. Residents, many who currently rent in those new condo towers, want the security and convenience that comes with having a professional landlord and a superintendent in the building, Sonshine said.
Toronto's Manhattanization
RioCan plans to build The Well, a 7.7 acre (3.1 hectare) mixed-used neighborhood of condos and rental apartments, retail, and office space in downtown Toronto. The company and its partners on the project, Allied Properties Real Estate Investment Trust and Diamond Corp., submitted a rezoning application Feb. 11.
"What we've worked very hard at over the last few years was having the capabilities in-house to develop mixed-use properties," Sonshine said. "That's where the future's going to be, that's part of the intensification."
The market may be hesitant of the strategy at first because RioCan's expertise has traditionally been in retail, according to Heather Kirk, a real estate analyst at Bank of Montreal who rates the company's shares a hold. It's likely to pay off, she said.
"Look at Toronto — 15 years ago that whole downtown King West area was a ghost town," Kirk said by phone Feb. 14, referring to the neighbourhood where RioCan wants to build The Well. "It's the Manhattanization of Toronto. That's a trend that's happening in a lot of cities."

Texas Malls
Across Canada, cities have grown up around the retail space that RioCan purchased two decades ago. Adding home rentals on top of those locations just means more revenue for the REIT and more return for shareholders, she said.
Toronto, Canada's biggest city, grew 9.2% to 5.6 million people in 2011 from 2006, according to the most recent census by Statistics Canada. Calgary's population jumped 13% in that period, fuelled by the energy industry. New York's population grew only 3.8% to 8.3 million people in 2011 from the decade before.
For now, 95% of RioCan's rental revenue comes from retail, with Wal-Mart, Canadian Tire and movie chain Cineplex Inc. being the company's top three tenants, according to a portfolio fact sheet. Ontario is RioCan's biggest market, generating about 56% of its revenue, followed by Quebec and Alberta. The U.S. accounts for 15% and is composed of about 50 shopping centers in Texas and other states, Sonshine said.
Stealing Assets
RioCan snapped up properties south of the border following the 2008 financial crisis, taking advantage of the price decline.
"I've got one regret — that we didn't buy more," Sonshine said from behind navy-blue framed glasses. "With the benefit of hindsight now, we were stealing the assets. We're looking to expand more in the U.S. but it's hard because things have gotten so expensive."
After retail rents have risen 10% to 12% annually in the last five years, the company is starting to get push-back from its tenants, said Sonshine. The rise of on-line shopping websites, including Amazon.com, are another challenge, posing competition for shoppers' dollars, he said.
Hence the shift into mixed-use developments, Sonshine said, whose guiding business strategy is to remain "always paranoid."
"People may change their shopping habits, they may change their working habits," he said. "They'll always need a roof over their head."
Story by: Bloomberg.com