RIOCAN TO SELL 'AIR-RIGHTS' TO EMBASSY BOSA FOR TWO RESIDENTIAL TOWERS PLANNED FOR CALGARY'S EAST VILLAGE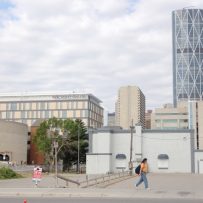 CALGARY – Two residential towers are now part of a much-anticipated retail development in Calgary's East Village.
In a news release this past week announcing its second quarter financial results RioCan Real Estate Investment Trust said it and its partner KingSett have entered into a conditional agreement with developer Embassy Bosa "to sell up to $30 million in air rights (representing 600,000 square feet) above the CPA development site, along with approximately $40 million in cost reimbursement for infrastructure works."
The land, which was formerly the Calgary Police Association, is a 2.8 acre site bounded by 5th and 6th Avenues S.E. and 3rd and 4th Streets.
"The intention is for two residential towers to be erected upon the planned retail podium," said the news release.
RioCan could not be reached for comment on Friday about the development and Embassy Bosa and Calgary Municipal Land Corp., which is overseeing the overall East Village development, both declined to comment.
In a news release July 2013, RioCan said the land was acquired April 8, 2013 and a development of 560,000 square feet of mixed-use retail and office space was being contemplated with development anticipated to start in the spring of 2014.
"An executed Letter of Intent with Loblaws is in place to lease 100,000 square feet of space on the second floor of the development and expressions of interest have been received from several other potential tenants," it said.
On its website, CMLC said about 300,000 square feet of retail space as well as office uses are planned for the site.
"We are excited about the opportunity the East Village development represents, and the chance to expand RioCan's urban property portfolio into Western Canada," said Edward Sonshine, chief executive of RioCan, in a statement when the land was acquired. "Calgary is an important market to us and this urban shopping centre will provide an exciting shopping destination for new and existing residents in Calgary's unique urban village."
CMLC said RioCan has indicated that grocery, home improvement and general merchandise are important retail categories for its East Village development.
Embassy Bosa has two phases of its three-phase Evolution residential condo project under construction in East Village. The Phase I development Fuse, with 203 condos in a 21-storey tower and an eight-storey midrise building, is sold out. The Phase II Pulse, with 271 units in a 33-storey tower, is 75 per cent sold.
Phase III is still in the design stage but will have two midrise buildings.
Story by: MARIO TONEGUZZI, CALGARY HERALD
Twitter.com/MTone123