RioCan to invest $1.3B in revamping properties as M&As take a backseat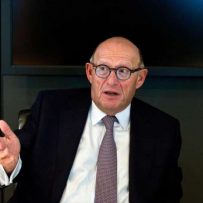 Canada's RioCan Real Estate Investment Trust is looking to invest about $1.3 billion over the next five years in the development and redevelopment of properties in urban markets, its top executive said this week.
With the pace of rental rate growth slowing and its acquisition strategy taking a backseat, Canada's biggest REIT has been looking for new ways to expand.
RioCan owns about 300 properties across Canada, and its biggest tenants include Loblaw, Canadian Tire, Wal Mart and Cineplex.
"We're budgeting $250 million per year for the next five years," RioCan Chief Executive Edward Sonshine said in an interview on the sidelines of a BMO Capital Markets real estate conference in Chicago.
The investment in what RioCan calls urban intensification projects would be a sharp increase from recent years, when the average spending was $100 million to $150 million per year, he said.
RioCan's expansion strategy calls for transforming some of its assets. This can involve emptying the property, encouraging tenants to leave, tearing down the existing building and constructing new residential, retail or office spaces.
"We're adding a lot of residential to our shopping centers. We're intensifying some of the retail, changing the configuration," Sonshine said. "That's where we see the biggest growth."
The company's biggest urban intensification project underway is The Well, a roughly three million square-foot property in downtown Toronto.
A joint venture with Allied Properties REIT and Diamond Corp, The Well will have one million square feet of office space, about 500,000 square feet of retail and 1.5 million square feet of residential.
The Well is expected to be completed in 2021, Sonshine said. RioCan and Allied own 40 percent each, while Diamond owns the remainder.
Other projects include the Yonge Eglinton North East Corner in Toronto, where the total estimated costs are about $450 million, and King and Portland in Toronto, where the total investment would be about $220 million, he said. RioCan has partners in both these projects, so its investment would be a part of total costs.
RioCan is also pushing into rental residential projects where it could spend, along with partners, "a couple of billion dollars" over a period of "many, many years," Sonshine said.
The company recently sold its U.S. operations, a move that helped significantly reduce its total debt to total assets ratio.