RESIDENT RETENTION TIPS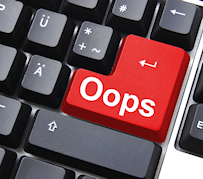 3 Steps to Successful Service Recovery
These six words printed on a beautiful card a friend of mine received from a stationery company when they messed up her custom order. Along with the card, she received two free packages of monogramed stationery and a discount on her original order.
As well intentioned as we often are in business, we all make mistakes. We underestimate, over analyze, forget, fall short, under plan, and fail. And no matter how hard we try, there's always one time, some time, when we miss the target and get it all wrong with the customer or resident.
In order to right the wrong, we must jump into service recovery mode—especially if we want to be successful property managers.
How Service Recovery Differs from Customer Service
The good news with failures is that they are always a chance to begin again. According to the 2011 Customer Experience Impact Report (CEI), 79% of consumers who shared complaints about a poor customer experience online were ignored by the company. The 21% remaining who did get a response shared a positive experience.
Service recovery can make the difference between success and failure. Sadly, many people in property management positions don't even know what the term means, let alone how to use service recovery to build a loyal resident base and increase sales. Service recovery means doing whatever it takes to solve a resident's problem, and doing it quickly. Some confuse service recovery with customer service, but they are not the same thing.
If I lease an apartment, discover that the carpet now stinks like a wet dog, and the manager agrees to clean it again at no charge, that is customer service.
If, however, the manager cleans the carpet again at no charge, sends a hand-written apology card, and discounts my rent two days for the inconvenience, that is service recovery.
Responding to mistakes can be a tremendous challenge but also an incredible opportunity for property management companies. Service recovery has long-lasting effects that reach all levels of an organization and touch people in ways you could never imagine.
Service Recovery Step 1: Take Responsibility
The 2012 American Express Global Customer Service Barometer notes that three of the top four customer service complaints are:
Passing the buck,
having to wait too long for an issue to be resolved, and
being shuffled from channel to channel or service representative to service representative.
Taking responsibility means that you never send the resident somewhere else or tell them to call back at another time where they will have to repeat their negative experience. Instead, you thank the resident for giving you the opportunity to address the matter, and to the best of your ability address it then and there.
Most employees, when faced with a complaining customer take the attitude, "I didn't cause the problem, so why should I apologize?" They take complaints personally rather than merely apologizing for the situation and then working quickly to resolve it. But instead of running for cover or pointing the finger elsewhere, you should simply say, "I'm so sorry for the problem; let me take care of this for you." Don't be afraid of owning up to the mistake or problem. More often than not, taking responsibility for a mistake quickly diffuses a customer's anger and frustration.
Service Recovery Step 2: Respond Promptly and Confidently
Nobody's perfect. That's a fact, not an excuse. The way you handle resident complaints is every bit as important as trying to provide a great experience in the first place. It can be very costly to move a complaint up the corporate ladder. If you can solve a resident's problem quickly and confidently, you not only maintain that resident's loyalty, you save your company money, too.
When it comes to responding to complaints, social media has become a game changer. How fast do customers expect a response? In general, they expect a response in a shorter time span than you would think. According to the 2012 Edison Research study, "42% of customers complaining in social media expect a 60 minute response time."
What do your residents expect? Do you have a disillusionment gap between your residents' anticipated response time, and your actual ability to provide a response?
Could your property management staff answer these questions with confidence?
How long does it take, on average, to call a resident back either with an answer or to let them know the problem is still being worked on?
What are the policies regarding responding to resident?
How much training have you had with regard to responding to residents in terms of time management, prioritization of problems, and dealing with difficult or angry residents?
At what level does decision-making occur regarding resident problems and inquiries?
Setting extremely clear expectations about responding promptly and confidently is critical. Property management companies that have figured out how to respond expediently, effectively, and with an attitude of concern, distinctly have an advantage over their competition.
Service Recovery Step 3: Give a High Value Gift with Low Cost
Do you know that Ritz-Carlton authorizes personnel at the front desks of its hotels to credit unhappy customers up to $2,000 without asking for a supervisor's approval? While you might think that such a policy would be too expensive for your company, the high cost of a poor customer experience is exactly what makes this system work so well. It forces employees to extinguish service failures in the first place. The average Ritz-Carlton customer will spend $250,000 with the Ritz over their lifetime. You do the math.
Every organization has something of low cost but high value that it can give a resident as compensation for a problem. A hotel can upgrade a guest's room, a restaurant can throw in a free dessert, and a cable provider can offer a free channel. It all comes down to taking responsibility for the mistake, solving it, and then compensating the resident. Giving residents something has high value in their eyes and doesn't break the bank for you is a service recovery tool that helps retain business and elevates the resident experience to a higher level.
Are You Prepared for Service Recovery?
Sometimes it is the newest or least trained employee who has the last clear chance to save a resident relationship. They become the face of your apartment community when things go wrong. A happy, loyal resident is worth a small fortune when you consider their lifetime value, not to mention their "network value"—the value of his or her recommendations.
Are you prepared to take responsibility for mistakes? Will you respond promptly and confidently? What is the price you are willing to pay for effective service recovery?  It's well worth figuring out the answer to these questions and arming every employee with the information. If you do, the next time you underestimate, over analyze, forget, fall short, under plan, or simply fail, you will be ready to make it right with the customer.