Report: The GTA needs more mid-rise developments if it wants to get intensification right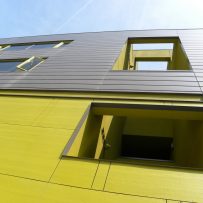 Story by: Monika Warzecha  | BuzzBuzzHome
Mid-rise condos should be at the forefront of the GTA's intensification strategy according to a new report released by the Pembina Institute and the Ontario Home Builders' Association. Structures sized between five- to 11-storeys in height could help the region's housing affordability problems, all while encouraging a walkable, transit-oriented lifestyle.
"The GTA is growing at an extraordinary pace, but without the right rules and incentives, that growth won't take the ideal shape. We need to capitalize on opportunities to build around transit lines and to provide more family-friendly, medium-density housing options," said Cherise Burda, Ontario Director of the Pembina Institute.
Though the report's authors laud Ontario's recent decision to allow for six-storey wood construction buildings, there's a lot of room for improvement. Namely, there has to be minimum density requirements along rapid transit lines.
"One need only look at the eastern and western stretches of the Bloor-Danforth subway line to see how a lack of planned density requirements results in low-density neighbourhoods and a shortage of housing options," the report noted.
Despite large-scale transit proposals and big investments in local LRT lines, the province hasn't set up any intensification targets for these new transit hubs, even though some of them, such as SmartTrack, are being funded by new development via tax increment financing and land value capture. These highly desirable corridors with easy transit access are what the report calls a "wasted opportunity" for more mid-rise structures. These new developments, in turn, would house more transit riders who would help boost transit revenue.
The report also suggests Ontario jettison parking requirements, which can increase overall costs for mid-rise condos. A parking structure can cost about $30,000 per space in high density areas of Toronto while underground parking costs even more, at up to $60,000 per parking spot. However, mid-rise buildings in transit-friendly areas don't need much parking. Still, developers are required to build spaces, even if owning a car isn't a necessity in that particular neighbourhood.
By reducing parking spaces, the total cost of the development also goes down. That, in turn, shaves off an estimated $50,000 off the cost of a unit for homebuyers.
Other suggestions include requiring retail planning before the mid-rise building goes up and updating the zoning by-laws that cap building heights at three or four storeys along avenues and transit corridors.
The institute also wants the current parkland requirements for developers to be more equitable. As it stands today, developers have to set aside a percentage of the land they're developing for parkland. But when there's not enough room, like in high-density areas, they can give cash in lieu of land to the city's park budget. In other words, if you're building downtown where land costs are sky-high, you'll have to pay out significantly more than a suburban developer.
Pembina Institute said that in some GTA municipalities, this equation is "skewed against high-rise and mid-rise developments" and suggests rejigging the formula, either by basing it on a a per-person rather than per-unit formula, or basing it on the type of development. Other suggestions include the creation of more "privately owned publicly-accessible spaces." These spaces have sprung up around downtown Toronto in recent years and offer open space in dense neighbourhoods.
To learn more about the suggestions, you can read the full report here. If you want to learn about mid-rise structures, we wrote about their defining characteristics here.