Report paints grim picture of Fukushima-scale nuclear accident in Pickering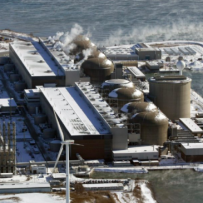 A Fukushima-scale nuclear incident at Pickering would mean the loss of 154,000 Toronto-area homes for up to 100 years, says an environmental group.
A Fukushima-scale meltdown at the Pickering nuclear power plant would exact a devastating human and economic toll on the province, causing 26,000 cases of cancer — nearly half of them fatal — and the evacuation of 154,000 homes in York and Durham regions and east Toronto.
Some areas would be uninhabitable for 100 years.
Losses from uninsured housing alone would be in the range of $125 billion.
That's the catastrophic scenario outlined in a report by the Ontario Clean Air Alliance, published on Sunday to coincide with the seventh anniversary of the earthquake that triggered the Japanese nuclear disaster.
The non-profit coalition, which opposes nuclear power generation, wants Ontario to dismantle its oldest nuclear generating station in Pickering and buy water-generated electricity from Hydro Quebec. But provincially-owned Ontario Power Generation (OPG) has applied to have the Pickering plant's operating licence extended beyond its Aug. 31 expiry.
Could Fukushima happen in the Toronto area? It wouldn't take the precise circumstances of the Japanese disaster to result in a similar accident here, said Jack Gibbons, chair of the Clean Air Alliance.
"There's a risk. No one can say for sure what the exact probability of a serious accident is but everyone knows the probability is greater than zero," he said.
Nobody is suggesting there will be a tsunami in Lake Ontario, said Gibbons. But the Toronto region is subject to some seismic activity. It could also be vulnerable to a plane crash or a cyberattack. Then there's the possibility of human error, the number one cause of nuclear accidents, according to the report, in which Gibbons wrote the forward and British expert Ian Fairlie modelled the potential radiation impacts it outlines.