Report: Canadian cities are facing major rental market problems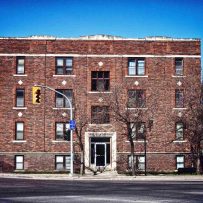 Story by: Monika Warzecha  |  BuzzBuzzHome
The Federation of Canadian Municipalities has sounded the alarm on prohibitively expensive rental markets in major metros across the country. One in five renters pays more than 50 per cent of their income on housing according to the 2011 National Household Survey, just one of many eyebrow-raising stats quoted in the report.
Looking at the 2014 rental survey from the Canada Mortgage and Housing Corporation (CMHC), the report's autors found that 18 of 34 census metropolitan areas (CMAs) "have vacancy rates below the three per cent benchmark considered healthy, and 10 of these are below two per cent."
Tighter rental markets also translate to higher rental costs, pushing out workers who are vital to communities such as nurses, first responders and teachers, among others. According to data gleaned from Statistics Canada, in 2011 there were 850,000 fewer units available for less than $800 per month in Canadian municipalities than in 2001.
"This means that, although there has been some improvement in income levels, many lower and moderate-income households continue to struggle to find housing that they can reasonably afford."
How did so many Canadian cities become inhospitable to renters?
Construction on purpose-built rentals has slowed considerably compared to previous decades with just 11 per cent of housing starts since 1996 devoted to rental units.
Home ownership rate have risen since the 1990s, and though this can act as a "release valve" for rental pressures, rising house prices have exacerbated the problem.
The federation circles back to federal policies a number of times. "Canada's Department of Finance has accordingly made it harder for first-time buyers — who represented more than half of new buyers in 2012 — to enter the housing market." Though lower mortgage rates, coupled with 40-year maximum amortization rates made it easier for many buyers to get into the market in 2006, it also caused a spike in home prices. Then, when the government shortened the maximum amortization period to 25 years in 2012, and home prices remained high, it shut out a number of would-be buyers.
"Access will remain challenging for marginal and first-time buyers, who are also constrained by the tighter credit conditions imposed by the Department of Finance in recent years," the report said.
The report doesn't see condo construction as a fix for renters either, noting that condos typically have rents that are 20 to 30 per cent above new purpose-built rental units.
Plus "security of tenure in condominiums is also not as strong as it would be for purpose-built stock, as investors can evict tenants at any time, to use the unit for themselves."
Since the mid-1990s, the federal government bowed out of creating national policies to address rental issues and reduced funding to social housing. Among their many recommendations, the federation has called on the Canadian government to implement federal tax incentives that would help improve new affordable and market-rental housing, including a Rental Incentive Tax Credit.