RentSeeker.ca Launches New Mobile Apps for iOS and Android for On-the-Go Apartment Hunters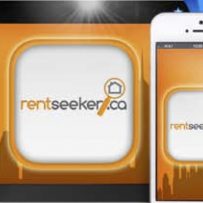 Apartment, Apartment! Wherefore App Thou?
RentSeeker.ca Launches New Mobile Apps for iOS and Android for On-the-Go Apartment Hunters
TORONTO,/CNW/ – RentSeeker.ca, one of Canada's leading online apartment finders, and an award-winning real estate internet marketing company, launches brand new mobile apps for Android and iPhone. The new apps can be downloaded free on the iTunes app store for iPhone and iPad and on the Google Play store for Android.
"Launching our new mobile apps for various mobile devices was the next step in bringing the ultimate in apartment-hunting convenience to Canadians," says Chaim Rivlin, President and CEO of RentSeeker Inc. (RentSeeker.ca). "The rental market is always looking for ways to quickly and easily engage renter to landlord and vice-versa, and that is even more important in today's faster paced rental marketplace. Being able to provide information about available suites using your smart phone or tablet will help continue to revolutionize the way property managers connect with new and current residents". RentSeeker.ca is also planning to release the first of it's kind in Canada – a Kindle app for searching apartments on Amazon's popular Kindle model. "We plan to continue to invest in all areas of our search platform as we continue to grow in an effort to enhance the apartment search experience" adds Rivlin.

About RentSeeker.ca
RentSeeker.ca is Canadian based award-winning internet marketing company and online apartment finder. Servicing the mostly the Canadian Real Estate sector, which include clients in multi-residential, commercial, retail, seniors and hospitality, RentSeeker.ca provides an extensive range of digital marketing services.
Services include: Listings & Syndication, Property Video Production and Marketing, Website Design, 3-D Floor Plans, Social Media Marketing, Custom QR Codes, Story Boards, Property Signage, and more. For more information, visit www.RentSeeker.ca
SOURCE RentSeeker Inc.
 For further information:Chaim Rivlin
RentSeeker Inc.
75 Wildcat Road
Toronto, Ontario
M3J 2P5
T. 800.445.7572
E. contact@rentseeker.ca