RENTSAFETO COLOUR-CODED SIGNS REJECTED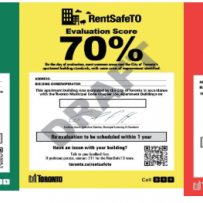 This morning, Toronto City Council considered a staff proposal whether or not to implement a colour-code to the current RentSafeTO rating system. Specifically, Council considered "displaying the evaluation score of the apartment building near the entrance and in a prominent location visible from the outside the apartment building to those entering or passing by the apartment building". The issues with this approach—stigmatization of lower-income tenants chief among them—was raised through FRPO's advocacy. As a result, Council amended this proposal such that rental owners will required to provide tenants with the score and evaluation on which the score is based. City staff are still in a retooling process with respect to evaluation criteria, and may approach the Planning and Housing Committee should recommendations in Spring/Summer 2021.
As Council just voted on a series of amendments, the final text of Council's decision is not yet available. However, when it is, you can view it by clicking here.