Rents up 4.3% in Canada, Rentals.ca report says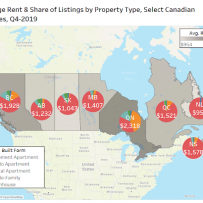 Average monthly rents for 3 largest cities led surge in 2019:
Toronto at 9%; Montreal at 25%; Vancouver at 11%
The average monthly asking rent for Canada rose 4.3 per cent year over year at the end of December, according to the January National Rent Report from Rentals.ca and Bullpen Research & Consulting.
The nation's three largest cities experienced significant rent increases in 2019 for all property types listed on Rentals.ca: Toronto at 9 per cent; Montreal at 25 per cent and Vancouver at 11 per cent. 
In Montreal, even though the sample size is robust, expensive downtown listings in 2019 outnumbered those in 2018, which likely played a factor in skewing the December 2019 rent level upward. Average monthly rents went from $1,286 to $1,611 year over year. 
In Vancouver, higher-rent condominium apartment listings on Rentals.ca in 2019 exceeded those in 2018 which pulled up the average rents. But Vancouver rent growth was impressive given the slump in the for-sale housing market in the early part of 2019. 
And what about Toronto? It's just expensive to find a place to live there. 
Young tenants in all three municipalities are looking for walkable downtown communities where they can live without the expense of owning and parking a car  — and without a crippling commute. To deal with affordability, young professionals are squeezing into smaller units and living with roommates well into their 30s. 
Rental affordability is expected to get worse in 2020 in Ontario and British Columbia, despite an increase in new rental apartment construction, and the crackdown on empty units and AirBnB in several markets. 
Rentals.ca is forecasting more modest rental growth in 2020 versus 2019, but the expectation is average rents will grow faster than inflation in most major markets outside of Alberta and Saskatchewan. 
Rentals.ca's recently published 2020 Rental Market Predictions report, forecasts Canada's average rental rates will increase 3 per cent year over year. 
With Bullpen Research & Consulting, Rentals.ca also forecasts annual rental rates could increase in 2020 by as much as 7 per cent in Toronto, 5 per cent in Montreal, 4 per cent in Ottawa and 3 per cent in Vancouver.
In the January report, Toronto had the priciest average monthly rent of the 30 cities on the list for a one-bedroom home at $2,299 and for a two-bedroom at $2,914.
St. John's had the lowest average monthly rent of the 30 cities for a one-bedroom home at $885, and Lethbridge finished with the most affordable average monthly rent for a two-bedroom  at $1,022. 
The average rent for Canadian properties listed on Rentals.ca in December 2019 was $1,854 per month, a decrease of 3.3% monthly (even with an annual increase of 4.3 per cent). 
Rentals.ca partner Local Logic provided insights for renters lifestyle interests and found many millennial families want more than anything to live near a quality school.
"As more families continue to rent as opposed to buy, we see renters for larger homes are willing to sacrifice their ability to take transit or walk to get their groceries in favour of being near a quality school," says Vincent-Charles Hodder, CEO of Local Logic. "We expect the rental markets to perform strong in areas close to schools in 2020." Below is a Toronto specific chart showing renters interest. The sample includes about 5.5 million listing views coming from around four million users.
Other takeaways from the January National Rent Report include:
When considering rental and condominium apartments only, two cities experienced more than 20 per cent rent appreciation from December 2018 to December 2019. Scarborough topped the list at 24.3 per cent, and Montreal had 22.6 per cent annual growth. Winnipeg achieved the third highest gains at 19.9 per cent; Vancouver went up 13.6 per cent and Toronto increased 10 per cent. 

At the other end of the spectrum for rental and condominium apartments only, cities in Saskatchewan and Alberta made up the bottom five. Saskatoon experienced a substantial rent drop of 15.2 per cent, with Regina not far behind at 13.6 per cent. The average rent in Edmonton declined by 8.6 per cent, Red Deer dropped 7.4 per cent, and Calgary declined by 3.9 per cent.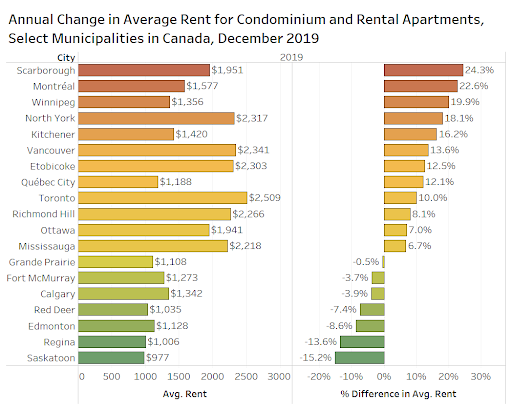 Average rents decreased for all property types for six major municipalities in Alberta —

Calgary

,

Edmonton

,

Red Deer

,

Lethbridge

,

Fort McMurray

and

Grande Prairie

— from the fourth quarter 2018 to the fourth quarter of 2019. The exception is Banff, which is primarily a tourist destination and not heavily affected by the oil and gas industry.

Eight of the top 10 most expensive cities for renters searching for a one-bedroom home are in Ontario.

On a provincial level, Ontario had the highest rental rates in the fourth quarter of 2019, with landlords seeking $2,318 per month on average for all property types. Ontario also has the highest share of condominium apartment listings at 37 per cent of the provincial total.  British Columbia had the second highest rental rate at $1,928 per month, while Newfoundland and Labrador had the lowest at $954.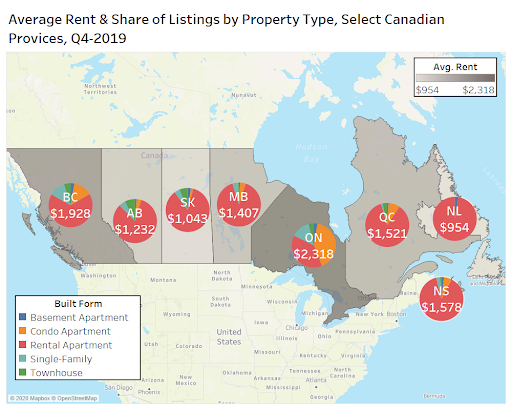 "Many Canadians both young and old are choosing to rent for lifestyle reasons," says Ben Myers, president of Bullpen Research & Consulting. "Evan Siddall, president and chief executive of Canada Mortgage and Housing Corporation, recently said that the glorification of homeownership is counterproductive economically and socially.
"Developers across the country are recognizing this shift in mentality away from home ownership, as the number of rental apartment starts topped 54,000 in Canada in 2019, marking the 10th consecutive year of rising new construction activity." 
"A logjam of tenants is clogging the bottom of the market," says Matt Danison, CEO of Rentals.ca  "They are seeking the least expensive properties, often far from transit and their jobs.
"For example, growth in rental rates in Scarborough, North York and Etobicoke topped growth in the former City of Toronto as tenants search for cheaper apartments outside the downtown core.
"And, he adds, "We will continue to see more renters extending beyond the GTA to commuter cities such as Hamilton."
The National Rent Report charts and analyzes monthly, quarterly and annual rates and trends in the rental market on a national, provincial, and municipal level across all listings on Rentals.ca for Canada. 
The Rentals.ca numbers show vacated properties that better reflect current values. The figures better represent the actual rents a potential tenant would encounter when seeking to rent an apartment.