Rents in Canada to grow by 3% in 2020, Rentals.ca predicts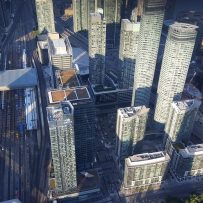 Average monthly rents for all property types increased 9.4% annually in November of this year, report says
Average rents for Canada will increase 3% in 2020, according to the December National Rent Report from Rentals.ca and Bullpen Research & Consulting.
The average monthly rent is forecast to increase 7% in Toronto in 2020, 5% in Montreal, 4% in Ottawa and and 3% in Vancouver, according to veteran housing analyst Ben Myers, president of Bullpen Research & Consulting Inc. Rents in Calgary and Edmonton are to decline 1% next year.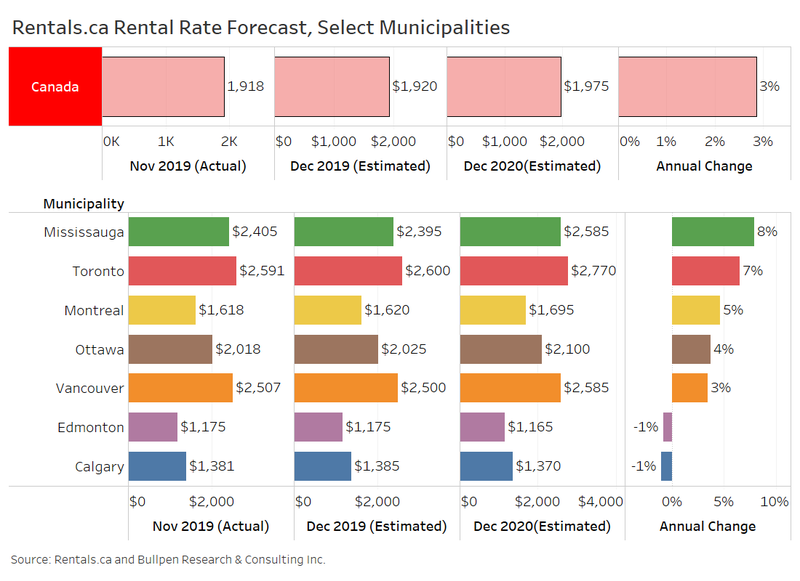 The impact of the changes to the mortgage stress test have started to fade as developers and investors look to increase rental supply to offset the increase in rental demand brought on by the decrease in mortgage credit and the spike in population over the past two years. 
At the end of the third quarter, the Canada Mortgage & Housing Corporation reported almost 72,000 rental units under construction in Canada, the highest rate in over 30 years. 
The average rent for Canadian properties in November 2019  was $1,918 per month, a decrease of 1.1% monthly, but an increase of 9.4% annually, according to Rentals.ca listings data. 
Toronto remains the priciest city for renters for a one-bedroom home with average monthly rent at $2,314, while Vancouver has the most expensive average monthly rents for a two-bedroom topping the $3,000 mark at $3,058. 
The majority of listings on Rentals.ca are rental and condominium apartments, and the chart below looks at the average rent and the annual change in average rent for a select number of Canadian municipalities (and former municipalities prior to amalgamation) in November 2019.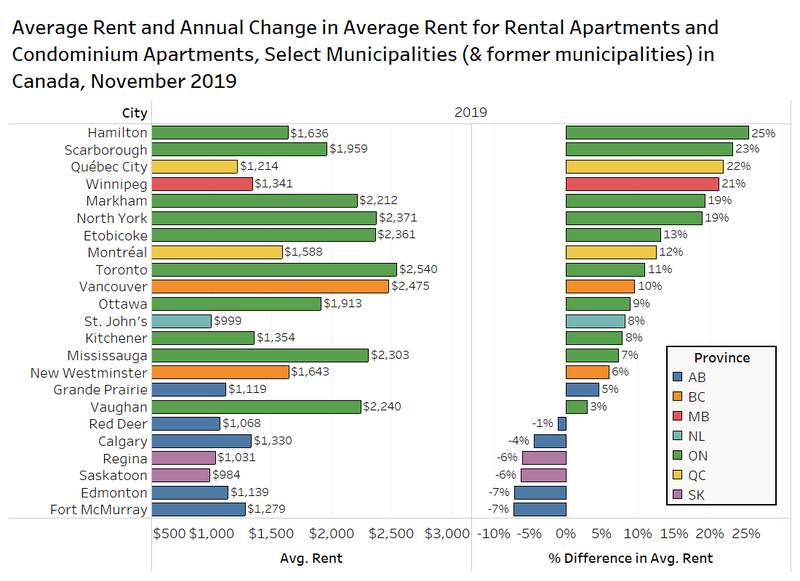 As was the case in October, Hamilton and Scarborough led the pack with year-over-year rent growth of 25% and 23%, respectively for apartments with rental or condo tenure. 
Two of the more affordable Canadian rental markets, Quebec City and Winnipeg, have both experienced a significant jump in year-over-year rent, increasing by 22% and 21%, respectively. 
On the other extreme are the municipalities in Alberta and Saskatchewan, with Red Deer, Calgary, Regina, Saskatoon, Edmonton and Fort McMurray all seeing average rents for apartments decline from November 2018 to November 2019. The declines range from -1% to -7% annually. 
On a provincial level, Ontario had the highest rental rates in November, with landlords seeking $2,339 per month on average (all property types), up from $2,334 in October, and 9.1% annually from $2,144 in November of 2018. 
In Saskatchewan, the average monthly rent declined 9.7% annually, while average rents in Alberta are down 3%.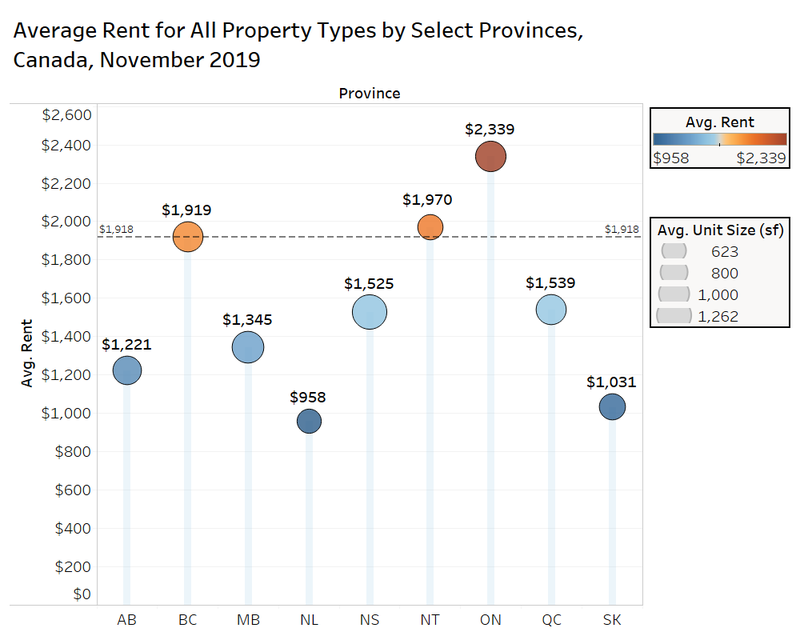 Other takeaways from the November National Rent Report include:
The annual increase in rents is supported by some of the smaller municipalities such as London, Hamilton, Kanata, Burlington, and Kitchener, which are all experiencing double-digit rent growth when considering all property types.

Developers are looking to cater to more affluent renters, including those shut out of the ownership market by increasing prices, younger renters choosing to be tenants for lifestyle reasons, and boomers and empty-nesters trading down from a larger dwelling. 
"After years of focusing on the ownership housing market," said Ben Myers, president of Bullpen Research & Consulting, "The media has focused more attention on the rental market as the mortgage stress test, expanded rent control, changing AirBnB legislation, rapid population growth, and record rental housing construction continues to disrupt the balance between supply and demand nationally. We expect the market to continue to be undersupplied overall in Canada in 2020."
"After two years of unprecedented rent growth, which included several markets where average rents increased by 20% or more, we do expect some moderation in 2020," said Matt Danison, CEO of Rentals.ca. "There should be some supply relief in the Greater Toronto Area in 2020, but Rentals.ca and Bullpen expected average rental rates for all property types in Toronto and Mississauga to increased by 7% to 8% next year."
The National Rent Report charts and analyzes monthly, quarterly and annual rates and trends in the rental market on a national, provincial, and municipal level across all listings on Rentals.ca for Canada.
The Rentals.ca numbers show vacated properties that better reflect current values. The figures better represent the actual rents a potential tenant would encounter when seeking to rent an apartment.